Filmus officially appointed as Malvinas, Antarctica and South Atlantic Secretary
Monday, December 30th 2019 - 09:58 UTC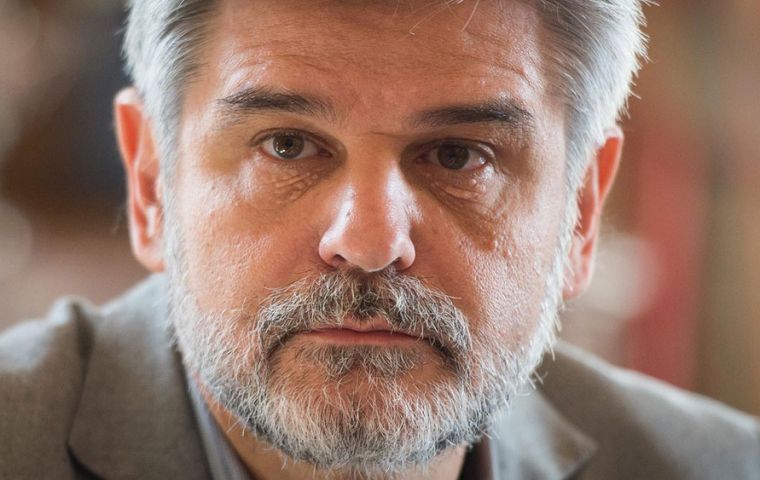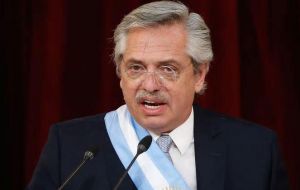 The Argentine government made official the appointment of Daniel Filmus as head of the Malvinas, Antarctica and South Atlantic Secretary, which depends on the ministry of foreign affairs and worship.
The Filmus name and other appointments were published in the Official Gazette under Decree 85/2019 and signed by president Alberto Fernandez, cabinet chief Santiago Cafiero and foreign minister Felipe Solá.
Mr. Filmus held the same job under the second government of ex president Cristina Fernandez. With former president Mauricio Macri the office was downgraded to another department of the ministry.
In recent statements before taking office, Filmus expressed disappointment with ex president Macri's approach and policy towards the Malvinas and south Atlantic islands. He insisted a stronger attitude was needed from Argentina to convince the British to sit down and discuss the Falklands' sovereignty.
Addressing the Federation of University Teachers Union, Filmus said that "the intensity of the claim for sovereignty decreased greatly" under the previous administration and a very active presence is needed. Argentina "needs a very active presence in international forae, almost aggressive".
Further on the former Education minister said "we believe that the Malvinas issue should be a mandatory issue in all disciplines. It is linked to foreign policy, but also to legal issues, fishing, energy, and a whole set of aspects that our universities must consider."
Under the Macri administration "the fight to defend natural resources such as hydrocarbons, fisheries, biodiversity and mining was put aside".
He insisted: "A good part of our university graduates must leave not only with knowledge of the Antarctic and the Argentine sovereignty over the Falklands, but we must also generate new knowledge on all these issues.".
In his inauguration speech to Congress last 10 December president Alberto Fernandez reaffirmed Argentina's strongest commitment to honor the First Transitory Clause of the Argentine Constitution and we shall work tirelessly to boost ...'the legitimate and imprescriptible sovereignty claim over the Malvinas, South Georgia and South Sandwich Islands and corresponding maritime and insular spaces...'".
"We shall do it knowing that the peoples of Latin America and the world are supporting us, and convinced that the only possible way is peace and diplomacy. We shall honor the memory of those who fell fighting for sovereignty. We shall work for the peaceful resolution of the disagreement and based on the dialogue proposed by the United Nations Resolution 2065.
"There is no more room for colonialisms in the XXI century", he underlined.
"We know that for this task the term of one president will not be enough, or of a government. It demands a medium and long term State policy. That is why I will convene within the presidency a Council with participation of all political forces, the province of Tierra del Fuego, representatives from the academic world and former combatants. The objective will be to forge a national consensus to design and advance the strategies that will allow us to push forward with success the claim no matter the electoral calendar.
"We shall defend our sovereign rights over the Malvinas Islands, the continental shelf, Argentine Antarctica and the natural resources in those extensions because they belong to the Argentine people"