Argentina pledges to review the 30% "tourism tax" situation in 180 days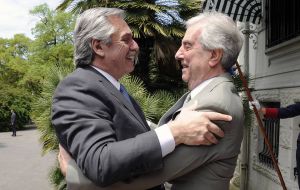 Argentina's Tourism Minister has committed to reviewing a 30% "tourism tax" applied when travelers from the country pay for goods and services abroad in U.S. dollars, Uruguayan President Tabare Vazquez told local news portal Infobae.
The new law, which has hit traditional Argentine Southern hemisphere summer holiday destinations like its neighbors Uruguay and Chile, applies to all such expenses incurred when using credit cards outside of the country.
Vazquez, who is stepping down next March and likes boasting, said in an interview published by Infobae that representatives of the Uruguayan Chamber of Tourism traveled to Argentina to talk with representatives of the Fernandez government.
"They got what they hoped to get: a commitment to some potential flexibility in the timing of the measure ...and a commitment from the minister of tourism (Matías Lammens) to review the situation in 180 days. We will see what happens," Vázquez told Infobae.
Argentina is in the grip of a prolonged recession and annual inflation is running at more than 50%.
The credit card charge aims to help prop up the local peso and was introduced by the new government of Alberto Fernández as part of an "economic emergency" law passed by Congress in December.
However if the promise is a review in 180 days, it will be of little help for Uruguay, since the summer season is at the most 70 days, until early March when schools reopen. Furthermore although the summer influx of Argentines in Uruguay and Chile is decisive for a season to be considered good or bad, the fact is that at the end of the twelve month financial year, the tourism balance has always traditionally favored Argentina.
In effect ,throughout the rest of the year Uruguayans and Chileans visit Argentina, particularly Buenos Aires which is a cultural, show biz, academic and business hub of South America.