Details of status change for Harry and Meghan disclosed by Buckingham Palace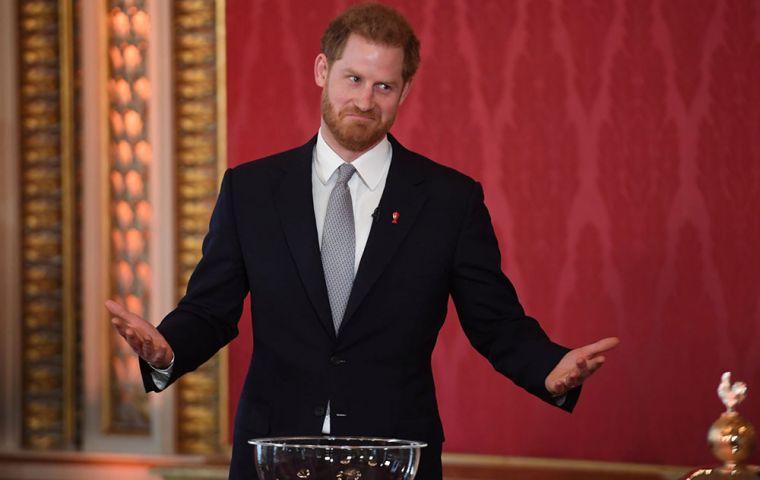 Prince Harry and his wife Meghan are relinquishing their "royal highness" titles as the Duke and Duchess of, Buckingham Palace announced Saturday. The new arrangements will take effect in the "spring of 2020," it was reported.
Nevertheless, the couple will keep their titles of Duke and Duchess but they will no longer use the titles His Royal Highness and Her Royal Highness prefixes. They will be known as Harry, Duke of Sussex and Meghan, Duchess of Sussex. Harry will remain a prince and sixth in line to the British throne.
The agreement also calls for Meghan and Harry to repay in taxpayers' money that was spent renovating their home near Windsor Castle.
The couple will thus forgo public funds. But Harry's father Prince Charles will continue to offer private financial support, a royal source said.
The British royal family was shattered earlier this month when the Sussexes announced they wanted to cut down their duties and probably settle in Canada.
In recent days, the Queen and her family have been working out with officials how this stepping back will work in practice for Harry, 35, and his American wife, former actress Meghan, 38.
"Harry, Meghan and Archie will always be much loved members of my family," Queen Elizabeth II said in a statement. "I recognise the challenges they have experienced as a result of intense scrutiny over the last two years and support their wish for a more independent life."
"It is my whole family's hope that today's agreement allows them to start building a happy and peaceful new life," the Queen added.
The couple married in May 2018 at Windsor Castle.
"Although they can no longer formally represent the Queen, the Sussexes have made clear that everything they do will continue to uphold the values of Her Majesty," a Buckingham Palace spokeswoman said.
The changes mean Harry will give up his military patronages and his role as Commonwealth Youth Ambassador as well as repay for the refurbishing of the couple's England residence at Frogmore Cottage, worth around 2.4 million pounds (US$ 3.1 million).
Buckingham Palace did not disclose who will pay for the couple's security is currently is taxpayer-funded. "There are well established independent processes to determine the need for publicly funded security," it said.