Falkland Islands Special for the popular "Walks around Britain series"
Monday, January 20th 2020 - 09:20 UTC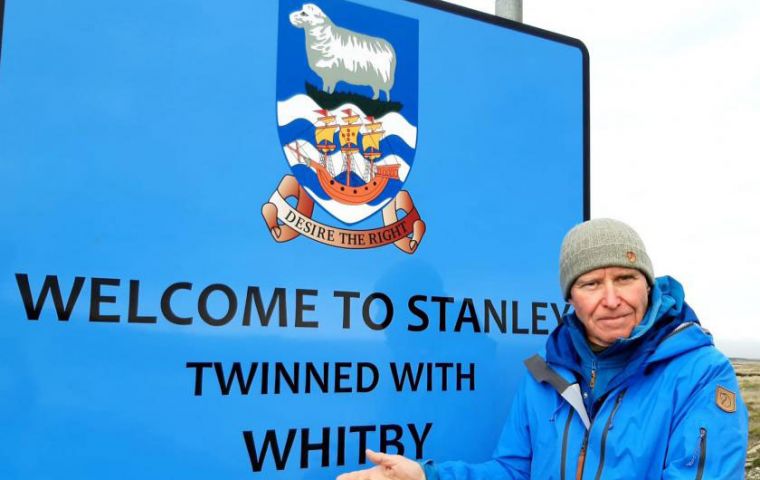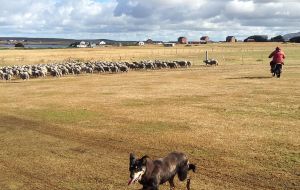 Adventurer and mountaineer Alan Hinkes is tackling one of his most tricky challenges to date: persuading people that the South Atlantic Falkland Islands are a must-see holiday destination.
At the invitation of the Falklands Island Tourist Board, Mr. Hinkes spent three-and-a-half weeks in the South Atlantic exploring what the Islands have to offer. He accompanied program maker Andrew White, who films and produces the popular Walks Around Britain series, for a Falklands Islands special.
Mr. Hinkes, who made his name as a mountaineer climbing all 14 peaks above 8,000m, said he was particularly keen to see how the Falklands measured up as a destination. And he discovered several parallels between the lay of the land 8,000 miles away with the countryside closer to home.
"Some of the topography is quite similar to upper Teesdale. Mount Usborne in the Falklands reminds me of Mickle Fell or Cross Fell," says Mr Hinkes, who lives near Barnard Castle. Elsewhere there is rugged and rocky terrain which put him in mind of the Lake District.
Despite the distance, getting to the Falklands is easier than prospective tourists might think, however, Mr Hinkes concedes: "It's not like popping over to the Alps on EasyJet."
He travelled on one of the twice-weekly direct flights from Brize Norton, in Oxfordshire, operated by the Ministry of Defense. Civilian passengers can book seats on these flights – which call at Cape Verde to refuel – via the Falklands Islands Government office in London. There are also weekly flights to the Falklands from Santiago, in Chile, and Sao Paulo, in Brazil. After 16 hours in the air, Mr Hinkes says first impressions were extremely favorable. His trip, in November and December, coincided with midsummer in the South Atlantic.
"One of the first things you notice is how bright the light is. Even on a dull day you need to wear sunglasses," he says. "The population is only about 3,500 – less than Barnard Castle – who mostly live in Port Stanley. The Islands are only as far south as London is north, but it is colder due to the effect of the Antarctic land mass. The air is clear and clean and my first impression is how British it is and how pleasant the people are.
"It's got some great walking. Walking around the coastline looks spectacular with white beaches and azure blue sea. There is some fabulous scenery."
During his visit, Mr Hinkes stayed both in Stanley and also on a farm on West Falkland which has diversified and now offers tourist accommodation.
Coast Ridge Farm is run by Nuala and Keith Knight, who now offer a cottage for visitors to the isolated outpost.
"Keith is a born Falklander whose dad moved there from UK in 1984 when he bought the farm. Nuala is from Glasgow," says Mr Hinkes.
Like many in Teesdale, sheep farming is the main strand of the farm's business, but that is where the similarities end.
"His farm is more ranch style – 12,500 hectares with 3,500 Polwarth cross sheep for merino wool. There are also 50 wethers for meat and 120 cattle for breeding," says Mr Hinkes.
"There is no ploughing – it's fairly dry and windy so they could get soil erosion. It is very thin, poor soil but he has invested in a seed drill to improve the grass rather than traditional rotovating.
"Fertiliser comes from Uruguay. Everything is imported so you have to plan ahead three months in advance – you can't nip to the farm supplies. Keith also uses a motorbike to shepherd sheep – and a 9mm pistol to round them up rather than dogs."
As well as the great outdoors, there is also much interest in the battlefield sites from the 1982 war after Argentine troops invaded.
However, it was a much earlier and less well known conflict which was being commemorated during Mr Hinkes' visit.
The Battle of the Falkland Islands took place on December 8, 1914, and the date remains an annual public holiday. The battle was a naval engagement between the Royal Navy and German fleet which resulted victory for the British and the sinking of the cruiser Scharnhorst.
By coincidence, the wreck of the German flagship Scharnhorst, almost 100 nautical miles south-east of Port Stanley, was discovered by a team led by Islander Mensun Bound during Mr Hinkes' visit. Looking back on his visit, Mr Hinkes concludes: "If you are looking for somewhere friendly and very different, this is the place. You would need a fortnight to make the best of it, but there were lots of people I met who were only there for a week.
"It is not that expensive when you get there and there is a loads to do – there are parts I would like to go back to."
For more information about visiting the Falkland Islands, visit www.falklandislands.com. (Teesdale Mercury)