Interview: "Pepe" Gómez, the Uruguayan big wave surfer who rubs shoulders with surfing legends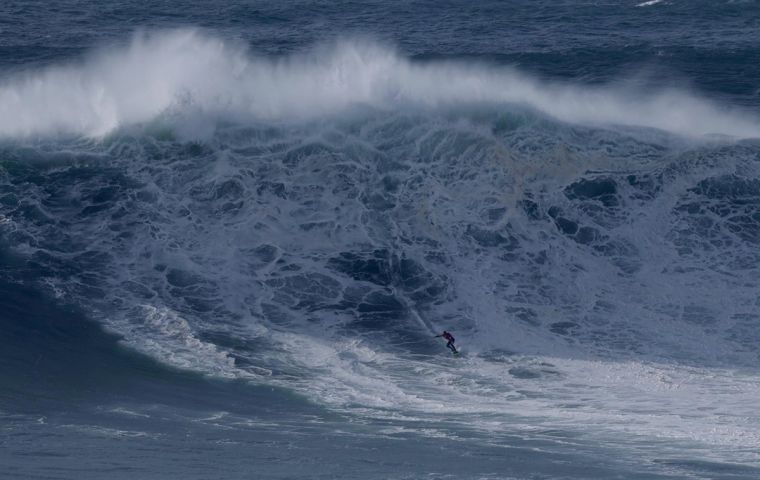 The surfer "Pepe" Gomez slid this week what may be the biggest wave ever surfed by an Uruguayan. He did it in Nazaré, Portugal, where a submarine valley creates the necessary conditions to break a worldwide known wave that reach up to 35 meters high.
Pepe, a native from Dolores, 300 kilometers from Montevideo –far from the sea– now trains to become a rescue or jet ski rider, a job performed by those who support surfers who dare to lower waves of such size . In addition to towing them, they must lift the fallen surfers as soon as possible, before, in less than 15 seconds, they reach new waves that would hit the rescuer and surfer alike.
Pepe has a plan. In conversation with MercoPress, he said that, far from wanting to sell his image through social networks to get sponsors, he plans to become one of the best jet ski riders to rescue surfers in the water between waves that look like mountains.
The Uruguayan surfer has "barely" 6 years training in the most extreme discipline of surfing, a sport he approached for the first time when he was 19 years old. When he is not in search of giant waves or training apnea to hold the air in his lungs as much as possible underwater, he works in his family's farm in Soriano.
Pepe waited for his turn to surf the 15-meter wave last Monday favored by the worsening weather conditions that day, since, according to him, being the rookie of a team composed of pro surfers such as Sérgio "Cósmico" Cosme or Nic Von Rupp, he has the "lower ranking" in the order of the rescue team and, therefore, has less priority to jump in the waves than some of his more veteran companions.
The elected president of Uruguay, Luis Lacalle Pou, who also ventured into surfing in the past, retweeted the video of Pepe sliding down the giant wave in his Twitter account.

Part of the team last Christmas. From left to right: Sérgio Cosme, Thiago Jacaré and Pepe Gómez.
This is part of Pepe's last Saturday interview with MercoPress after the unprecedented feat among Uruguayans and that not many Latin Americans have done.
This week you slid the wave and it fell on you at the end. How was that time when you were submerged?
When I slid the wave, at the moment I was already bellow the lip I realized that the wave was already going to fall up and I had two options: abort mission and drop the board or go straight down and give it just forward, which actually was the best.
If I'd have aborted the mission the wave was going to hit me harder. So I went down and it exploded and I was a few meters ahead of the worst moment and then it grabbed me. I just had a little of pain in the ankle. But it was spectacular.
What do you think before diving into the water knowing that you are going to surf something like Nazaré and how is the logistics of that day?
The logistics is that I am from the ranks below because I have less experience than others and I am the one who prepared everything. I clean everything. So like [the rest of the rescue team and surfers] are very much with the headphones on, listening to music, you see some of them praying, others meditating and I am always preparing the jetski. Then I am less nervous [chuckles].

Pepe Gómez vanishing under the white wave.
How does the team works?
There are 4 teams: I am in the team of Sergio Cosme and Nic Von Rupp [pro rescuers and surfers] who are sponsored by Opel and Monster, and pay them the shed where they leave the jet skis.
There in the harbour they have 5 jet skis. I sold my SUV and bought a jet ski and contributed with another one to the team. But what they needed, more than another jet skis, was someone to drive them. Because many people come who pay the service of 300-400 euros to get off a wave but they already have it with the sponsors. So what they need is someone to help them to rescue them and have the strongest team to be able to break the record of the biggest wave in the world, which is what they are looking for here and for which the sponsors invest thousands of euros in the rescue teams that work here [in Nazaré].
When rescuers go to the water to surf, we take turns based on a hierarchy by experience in the team.
There are two types of pilot: the one who throws you on the wave that later follows you back and then you have the second rescue that is ahead seeing how you are surfing the wave and has a moment to beat the one who goes back, on the wave, to rescue you if you fell.
After everyone surfed, the sea got bumpy and the same thing happened to me as in Hawaii, when I had my chance to surf when it rained and the dark water [from the rivers] started to get into the ocean, then the sharks came to eat because there was Food and no one [of the local people] wanted to surf. This was the same.
Why did you chose big wave surfing?
When I started surfing, I had to wait for the last [wave] of the series, the biggest because there were many surfers, all very advanced (I started at 19), then I had just one chance, and that one was the biggest wave because everyone took the medium ones, the ones that had more space to maneuver and the biggest one was usually just a drop and it was it. Nobody was looking for it. Then I went looking for the biggest one and then I went alone to Pichilemu [Chile], the first surf trip, without knowing anything, without being told anything with a type of board that nobody had surfed there and I didn't even know how to do nothing on the surfboard and there I asked a fisherman how he was doing to enter [the sea] because the entrance was difficult. He told me how to do it, but this wave crushed me between the rocks, I got stunk in seaweed, survived and after that I had to swim in, between waves of 4 or 5 meters and the only way to get out of there was to surf one of those, since the current took you out to sea. There I took my first big wave in which I was a minute up. I remember arcading and wanting to vomit from standing so long. I used all the muscles I had never used. That sensation will never leave me.
I listened to talks from people like Tony Kamo [Spanish psychologist dedicated to hypnosis and mentalism]. It is said we repeat things again for the first sensations we had. What you live first, if it was impressive, you really want to repeat it, but it never feels the same again.
What do you plan to do now?
My plan already changed a year ago: before it was always looking for more and more, bigger waves, paying for the jet ski to be rescued. As I did not get in the way of social networks and add value, sell my image, I decided to take another path, work with the jet ski, find my place as a rescuer or pilot to finally become one of the best in the world. That's my goal. It is no longer in my mind 'very good the wave is that I just surfed, beautiful', my goal here is to improve as a pilot. That's why I bought the jet ski here. The only thing I do not want is to lose the jet ski, because it is very common to lose it between giant waves. I want to keep moving forward in piloting, which is much harder than surfing a giant wave. Imagine what it is to drive a jet ski between 6 meters high white waves in which on jet skis, if you accelerate, you can't move. You have to know the sea more than anyone, you have to surf all the waves in the world to be able to drive and rescue between those waves. Any mistake I make is very expensive.
I am the only one who does not have a sponsor, I have a year and a half of driving while the others have 10 or 15 years. I am the only one who has nothing to do. I am from the countryside and I have no vision of the sea because you have pilots who are professional surfers who combined the vision of the sea with the piloting.
Here my jet ski is lower than theirs.
Localism is very hard. I am in a group, in which if I was not there, I could not pilot. If I don't help everyone in my group first, then I can't go do something for me.
Any anecdote rescuing with the jet ski?
Yesterday I towed in someone into a wave that broke earlier than expected. I had to get out quickly with the jet ski and flew in the air. When you fly with the jet ski and fall horizontally, it's like falling against a rock. Then I jumped off the jet ski and stayed in the water, but the jet ski was on. I had to grab the rope with which I towed the surfer and got on the jet ski. Luckily everything went perfect.
You took 6 apnea courses, is it necessary to do so many?
Oxygen will always be missing. That is, we are talking that already passing the 13 meters of wave, it decides when to leave you. If you can hold 30 minutes underwater, better. There is no one who says "I'm fine with oxygen." Before, 10 meters waves were caught as a limit, there were people who were OK with oxygen. But now there are no limits. There are 25, 30 meters of wave, which is supernatural and if you get hit, say, by two waves and float in the water without the surfboard, it is 7 minutes you are going to be diving. This learning is to move forward.
What do you do when you're not surfing or rescuing?
I have to do a thousand things for this group. I am the only one who does maintenance on all the jet skis. I oil them, I wash them, I change the water… I am the only one who does all that because as everyone has sponsors, they work with social networks and they have contracts, nobody has time to do these little things, right? I am the one who cleans the shed, the bathroom and I take out the dead rats [chuckles] because nobody else takes them out.
So it's a 24/7 job for you
Totally, yes. Driving the jet ski it really leaves you exhausted and for each day [of work] you need at least another day of rest to be able to return without spending on physiotherapy, chiropractic, and keep up the pace at a professional level. I can't give myself those luxuries. I really have to realize that my body needs 24 or 48 hours of rest.