Argentine president begins a quick tour of Europe in search of support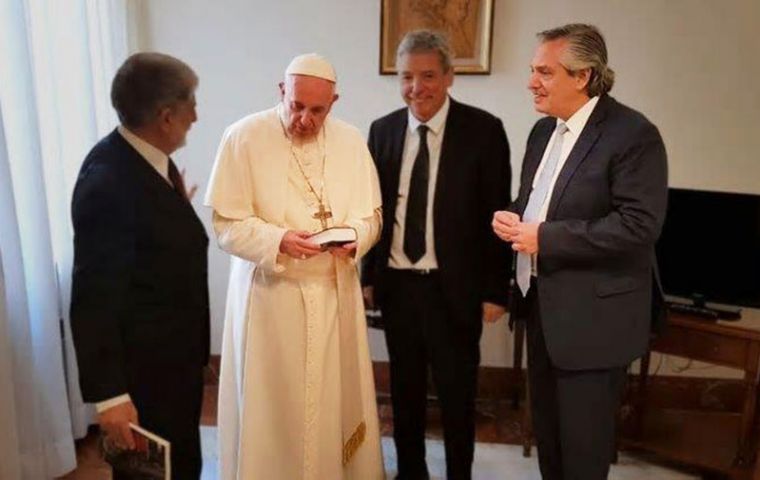 Argentine president Alberto Fernandez will again be away several days beginning next Wednesday until at least Wednesday, February 3, during which time he is scheduled to meet the Pope, and leaders from Italy, Spain, France and Germany. In his absence vice-president Cristina Fernandez will be acting president.
This coming agenda follows on last week-s trip to Israel for the Holocaust Forum and Fight against Antisemitism, which convened some forty world leaders, including US vice-president Mike Pence, French president Emmanuel Macron, German president Frank-Walter Steinmeier, Vladimir Putin of Russia, the King of Spain and the Prince of Wales among the distinguished participants.
Besides the social gathering and courtesy talks while in Israel, Fernandez only held full agenda meetings with the host country president Reuben Rivilin and with prime minister Benjamin Netanyahu. Very appropriate meetings given that a Netflix production again brought to the spotlight the fifth anniversary of the death of special prosecutor Alberto Nisman who was investigating the still unsolved terrorist attack on a Jewish community center in downtown Buenos Aires that, in 1994, killed 85 and injured hundreds.
Netanyahu praised Fernandez for his insistence with the AMIA investigation and for the condemnation of the Hezbollah as a terrorist group. A meeting with Russian president Putin, allegedly sponsored by the good contacts of Cristina Fernandez, never materialized.
Next Wednesday president Fernandez flies to Rome where on 31st January has an appointment with Argentine born Pope Francis, who has yet to visit Argentina and also has a very keen interest in Argentine politics and how they evolve.
In Rome the Argentine leader is scheduled to meet with his Italian peer Sergio Mattarella, and also with prime minister Giuseppe Conte. Even when Italy is not going through a great political moment, the trade, financial, culture, migration and family links between the two countries are long standing. Next stop is Spain and a meeting with President Pedro Sánchez, recently reelected.
Finally with Emmanuel Macron in Paris on 5 February. The time and place of the appointment with Germany's Angela Merkel has yet to be agreed.
All these countries and their leaders are considered essential by the administration of president Fernandez in his attempt get the Argentine economy rolling again and negotiate a way out for its huge sovereign debt.