Sarah Whitby takes oath as Falklands, South Georgia Senior Magistrate
Monday, January 27th 2020 - 08:20 UTC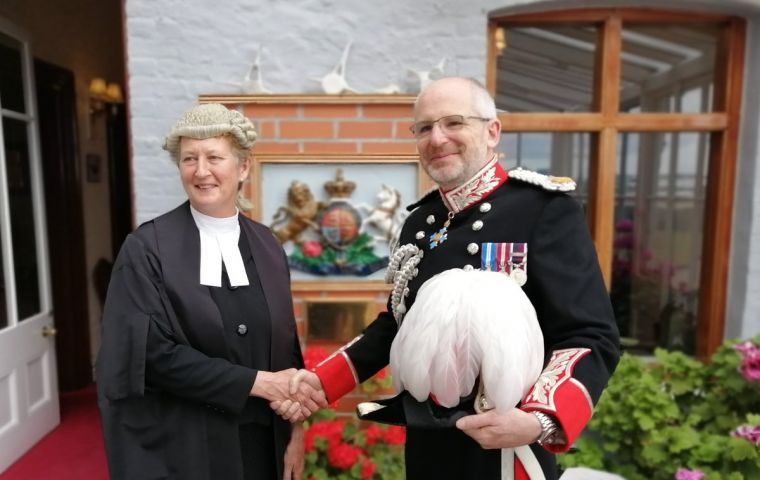 Sarah Whitby was officially sworn in as the Falkland Islands Senior Magistrate at a ceremony at Government House. Mrs Whitby, previously Crown Counsel for Civil and Safeguarding, will fulfill the role of Senior Magistrate and Coroner for the Falklands, South Georgia and South Sandwich Islands, and the British Antarctic Territory, as well as acting Judge for the Falkland Islands.
Speaking at the ceremony, Mrs Whitby said she did not expect the honor of fulfilling this role towards the end of her legal career, adding, "it is a role that I know I am able to take on, and I hope that I will be able to serve the community as it should be served. And I'm sure that I will be supported by all the people in the legal community as well."
Asked about her expectations and challenges facing her in her new job, Mrs. Whitby told Penguin News: "You have to weave a way in the community, of being able to be part of the community, and yet also have that apartness."
Mrs. Whitby is an experienced coroner and family judge, and recently took and passed the Recorder's induction course for all criminal judges in preparation for the role.
Mrs. Whitby said in addition to the professional support she will have access to colleagues and professional networks in the UK, and she will look to attend sittings of the Summary Court to observe how experienced Justices of the Peace manage the courtroom.
Speaking at the ceremony, Governor Nigel Phillips also expressed his thanks to Clare Faulds, who served as interim Senior Magistrate before Sarah Whitby took office.
Ms. Faulds has served as Senior Magistrate on numerous occasions over the last 15 years, initially between 2004 and 2006, and in spells in 2008, 2011, 2014 to 2016, and 2018 to the present.
Ms Faulds has also agreed to serve as acting Senior Magistrate should it be required, the Governor confirmed. (PN).