Argentine president meets Angela Merkel Monday evening and on Tuesday will be in Spain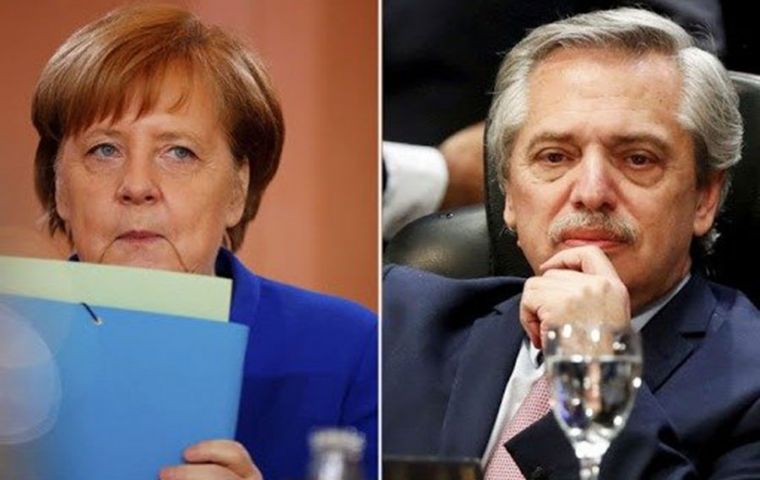 Argentine president Alberto Fernandez and his delegation are in Germany where they arrived Sunday morning and on Monday evening will be received by Chancellor Angela Merkel.
As in Italy with Pope Francis, and Italian top officials, with Chancellor Merkel the most powerful leader of Western Europe, president Fernandez will ask for support for his ongoing battle to alleviate the burden of debt and get the Argentine economy back on its feet.
On Monday, in Berlin, most of the day Fernandez has no official agenda but he is expected to meet with some of German industry and finances leaders, plus invite investors to return to Argentina.
At the meeting with Merkel, Fernandez will be accompanied by Economy minister Martin Guzmán who is working on a plan to present Argentine creditors, both the IMF and private sovereign bondholders. Merkel, together with French president Emmanuel Macron, who Fernandez is meeting in Paris on Wednesday, have strong influential voices in the European Union and the IMF.
On Tuesday the Argentine delegation will be in Spain for interviews with president Pedro Sanchez and King Philip VI, and finally on the last leg of the European tour president Fernandez will have lunch with his peer Emmanuel Macron at the Elysée Palace. France is also influential in multilateral bodies such as the IMF and the World Bank, and many French companies have long time investments in Argentina.
Merkel will receive president Fernandez at her offices in the Bundeskanzlerin, where minister Guzmán is expected to lay out Argentina's strategy and debt deferment plan, which sometime in March will be presented to the creditors.
Germany under Ms Merkel led the European Union rescue plant for the Greek, Portuguese and Spanish economies, a painful process, but which apparently have been considered successful.
Argentina contrary to previous situations has publicly stated it wants to pay back loans but argues it needs time and a working economy, meaning that unless growth can be propped, inflation controlled and people fed, there is little or no chance to comply and honor debt commitments.
According to Argentine media reports the Argentine delegation received a positive pledge to its strategy from the Pope and from Prime Minister Giuseppe Conte and president Sergio Matarella.
Following the meeting in Paris, the Argentine delegation will be flying back to Buenos Aires with the exception of minister Guzmán who is heading for the Vatican to participate in an economic forum sponsored and organized by Pope Francis, and which will be also attended by IMF chief Krystalina Georgieva. This will be the first time the minister and IMF chief hold a face to face meeting.
Sometime later, mid February a full delegation from the IMF will be travelling to Buenos Aires to check, hopefully, on the country's medium and long term economic programs.