Germany pledges support for Argentina and its foreign debt strategy compliance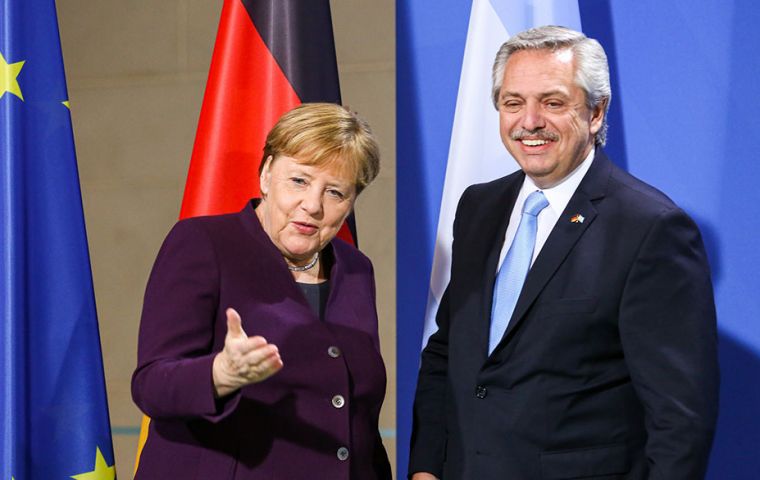 Argentine president Alberto Fernandez left Germany more than satisfied after Monday's evening meeting with chancellor Angela Merkel and in the morning with leaders of industry and finance, who pledged investments in Argentina.
According to Argentine sources, including statements from president Fernandez, Ms Merkel said Germany would support Argentina's position in the renegotiation of the country's foreign debt.
The German leader received the Argentine delegation at 20:00 sharp at the Chancellery in Berlin, where after some welcoming words, Economy minister Martin Guzman laid out in detail the program to renegotiate Argentina's heavy foreign debt, "with no cuts and no conditions", which apparently convinced the German hosts.
During the two hours and fifteen minutes meeting Merkel and Fernandez also addressed other regional situations such as those in Chile, Bolivia and Venezuela.
In a brief presentation to the media, with no questions taken, previous to the meeting Merkel pointed out the great interest of German industry to invest in Argentina and her government's willingness to support and help with the Argentine situation.
Fernandez pointed out how significant it was to be Berlin and said that Germany is "a model we look at closely, and its role in a unified Europe" and trusted that it would strongly sponsor the recent accord between Mercosur and the European Union.
"We share concerns for the multilateral bodies, which is where the world should converge", Fernandez underlined.
Merkel pointed out to the long friendship between Germany and Argentina, in the diverse fields, "which we want to increase" with closer relations.
"We know Argentina is not going through an easy economic situation, and that is why we must address our economic relations and also think how Germany, from Europe can support and help Argentina".
Earlier in the day Fernandez shared a working breakfast with German business leaders from some of the industry's brand names, Volkswagen, Siemmens, Hamburg Sud, Hydro DB, Lindal Group, Smart Infrastructure, among others.
Volkswagen, with four decades in Argentina, pledged to further invest US$ 800 million.
Following the meeting president Fernandez said "we had an excellent meeting with Chancellor Merkel, with whom we shared visions on many issues. Among them the need to reach an agreement with the IMF that will allow as to pay but without exposing the Argentine people to more suffering"
The Argentine delegation included besides minister Guzmán, foreign minister Felipe Solá, the Secretary of Strategic Affairs, Gustavo Beliz and First Lady Fabiola Yañez.
Fernandez also mentioned the recent meeting with Francis, and told Ms Merkel that the pope had spoken very highly of her. "He send his best wishes", Fernandez told the Chancellor who replied, "I can't understand why he has never visited Germany"
Fernandez replied, "you shouldn't be surprised he's never been to his homeland, Argentina".
Sources mentioned that the German delegation was very much impressed with president Fernandez and consider him a very promising figure in Latin American politics.