"Tell president Fernandez that he count with the support of this president", Trump tells Argentine ambassador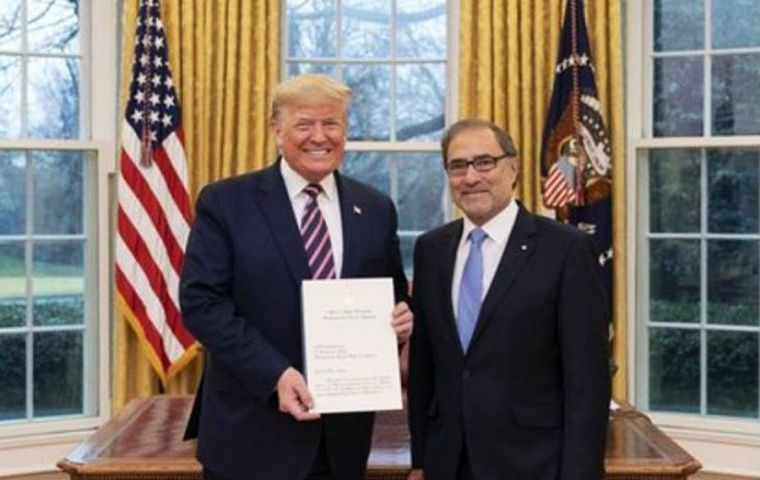 Argentine president Alberto Fernandez should be back in Buenos Aires on Friday following a European weeklong tour where he met the Pope and several leaders as part of his strategy to address the rescheduling of the country's foreign debt, which has the Argentine economy prostrated and with minimum chances of recovery if it has to meet capital and interest commitments.
According to Argentine diplomatic sources and comments from the different EU leaders Fernandez met, beginning with Pope Francis, Italy's prime minister Giuseppe Conte, Spain's Pedro Sánchez, Germany's Angela Merkel and French president Emmanuel Macron, all of them pledged to help Argentina in its debt restructuring with the IMF and private sovereign bond holders.
The Pope even organized a seminar in the Vatican on the sustainability of foreign debt for countries with vulnerable populations which was also attended by IMF managing director, Kristalina Georgieva.
However despite the promised German and French support in the IMF board, the upper hand is held by the United States, which holds a commanding percentage of the Fund's votes, and garnering president Donald Trump's is essential. But Argentina's foreign policy regarding Bolivia, Venezuela and even Lula in Brazil is not necessarily of Washington's liking, besides the fact that the US president had an excellent relation with former conservative president Mauricio Macri.
With this in mind Fernandez the previous week was in Israel for a world leaders conference on the 75th anniversary of the liberation of the Auschwitz camp in Poland. The Argentine president, in a private meeting, is believed to have asked Israeli prime minister Benjamin Netanyahu for a "good word" on Argentina with his excellent friend, president Trump.
It is not clear if all this EU support, plus the moral backing from the Vatican and Netanyahu's good word were decisive, but the recently appointed Argentine ambassador in Washington on Thursday was received by Donald Trump at the White House, a triumphant president after having been acquitted from impeachment in the Senate and inflicting a humiliating defeat on Democrats, at the beginning of his reelection campaign.
And according to ambassador Jorge Arguello, Trump was enthusiastic about Argentina, and after listening to the current situation of the country's economy and its strategy to alleviate the burden of debt, through a rescheduling, the US president said magic words, "Tell President Fernandez that he can count with the support of this president". That is the US will help Argentina in its negotiations with the IMF.
An IMF technical mission is scheduled to land in Buenos Aires next week. Argentina has immediate debt commitments of some US$ 100 billion, US$ 44 billion with the IMF and the rest with private bondholders.
Argüello also revealed that he has already been in contact, informally with the US Treasury Department, State Department and the Pentagon.