Korean satire makes history by winning Oscar's Best Picture award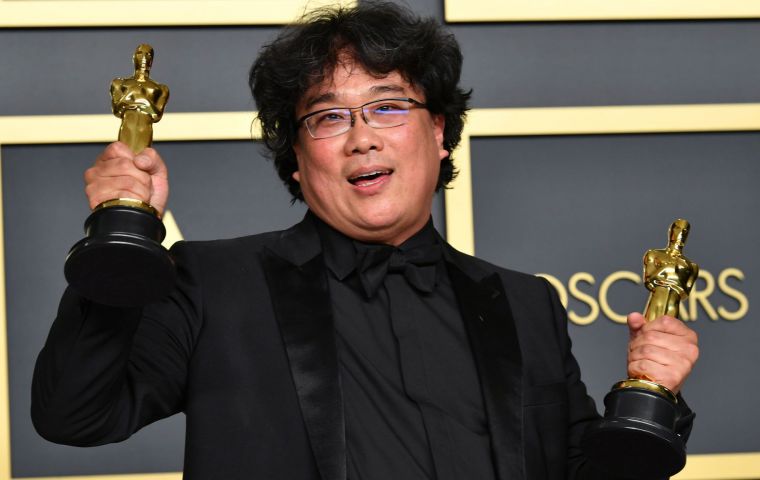 South Korean satire Parasite scored a stunning upset and made Oscars history when it won the Best Picture award– the first film in a foreign language to do so. Oscar's watchers had considered the Best Picture category a three-way race between independent social satire Parasite, British director Sam Mendes' immersive World War One movie 1917 from Universal Pictures, and Quentin Tarantino's love letter to show business, Once Upon A Time In Hollywood, from Sony Pictures.
Other main winners at the ceremony on Sunday included Joaquin Phoenix, who scored his first Oscar for a disturbing performance as a loner clown who turns to violence in Joker. He used his Best Actor acceptance speech to bring attention to climate change and sustainability issues.
For the Best Actress category, front-runner Renee Zellweger took home the trophy for her role in Judy, winning her second ever Oscar. She paid tribute to the other nominees, saying it was "an honor to be considered in your company."
But it was Parasite that was the biggest winner of the night. The film picked up four awards in total, including Best Director, which saw him beating out the favorite, Mendes.
Bong Joon-ho paid tribute to his fellow nominees in the category during his acceptance speech. He said, "When I was in school, I studied Martin Scorsese's film. Just to be nominated was a huge honor. I never thought I would win."
He also thanked Tarantino: "When people in the US weren't familiar with my films, Quentin always put my films in his lists. Quentin, I love you."
Bong won his first Oscar of the night for Best Original Screenplay. In that acceptance speech, he said, "We never write to represent our countries. But this is (the) very first Oscar to South Korea. Thank you."
He later went up to the stage again to pick up the film's second award of the night – for Best International Feature Film. Bong called it a "great honor" and said he was happy to be the first recipient of the award under its new name. The award was formerly called best foreign film.