Talks in Geneva for further remains identifications at the Falklands' Argentine military cemetery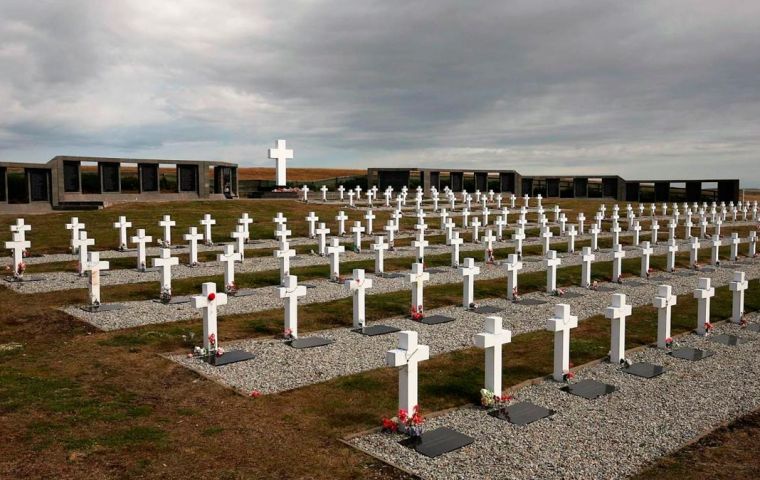 Argentina and the United Kingdom are holding talks in Geneva, with the International Red Cross for a new agreement on the identification of soldiers' remains in the Argentine Memorial cemetery at Darwin in the Falkland Islands, where there is still at least one grave with uncertainty as to the name/names of who are buried.
The statement belongs to Daniel Filmus, South Atlantic Islands and Antarctica Secretary, who in an uncommon gesture praised the previous government of president Mauricio Macri for having continued with the policy started by the Kirchner governments to help next of kin with the identification of the remains of their loved ones buried in the Falklands, many of them with a grave stone reading , "Argentine soldier, only known to God".
"We are grateful that the previous government respected the great job started in 2010 during the administration of Cristina Fernandez de Kirchner, which toured Argentina looking for the relatives of the dead soldiers and collecting the DNA, samples, crucial for the identification of the remains buried in the graves"
Families couldn't believe, at first they were incredulous that thirty years had gone by, and nothing had been done about the identification of the remains, said Filmus who guaranteed that the current government of Alberto Fernandez will continue with the task, because it is a "basic human right and it is essential that relatives know where their loved one is buried"
"Giving a name to each of the graves is a central issue in which we are advancing and hopefully we can add more steps along the coming months", Filmus added underlining that this must be accompanied by a major "contention and psychological and material support" for all those who lost a relative in the South Atlantic conflict.
Under the Red Cross and with an international team of anthropologists and forensics, 115 remains in the 122 graves at the Argentine military memorial cemetery have been identified, but apparently there are several combatants who were buried together and this needs to be sorted out.
A leading part in the identification process has been played by the Argentine team of forensic anthropologists, EAAF, a well known team with a vast expertise in the matter given the thousands of disappeared and clandestine burials as a result of the 1976/83 Argentine dictatorship.