Argentine ambassador in US meets Secretary of State Mike Pompeo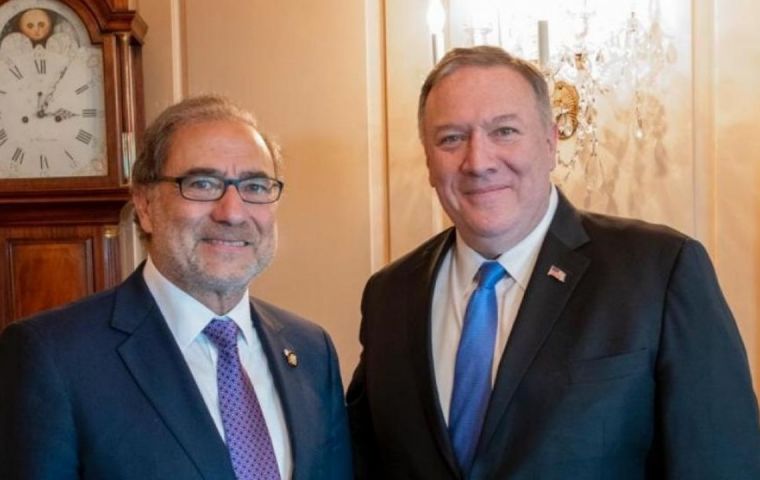 Argentine ambassador in Washington Jorge Argüello held a meeting on Monday with Secretary of State Mike Pompeo, with the purpose of strengthening bilateral relations and which was described as "highly productive".
The Argentine embassy twitter on the meeting also included a picture of the ambassador with Mike Pompeo.
Argüello was appointed by president Alberto Fernandez, Argentine ambassador before the US government last 29 January, and was also named responsible for coordinating Argentine representations before the UN, OAS, IMF, World Bank, IDB and the different consulates in the US. He was also involved in the recent meeting of G 20 Finance ministers and Central bank chiefs held in Saudi Arabia, of which Argentina is a member.
Earlier in the month Argüello was also received by US president Donald Trump at the Oval Office in the White House. Apparently Trump was very much interested in Argentina and Argüello explained the difficult moment the country is going through, recession, inflation, unemployment, poverty and a debt difficult to honor under those circumstances.
Allegedly according to the Argentine ambassador, Trump replied, "tell president Fernandez that he can count with this president".