Donald Trump talks to Uruguayan president Lacalle Pou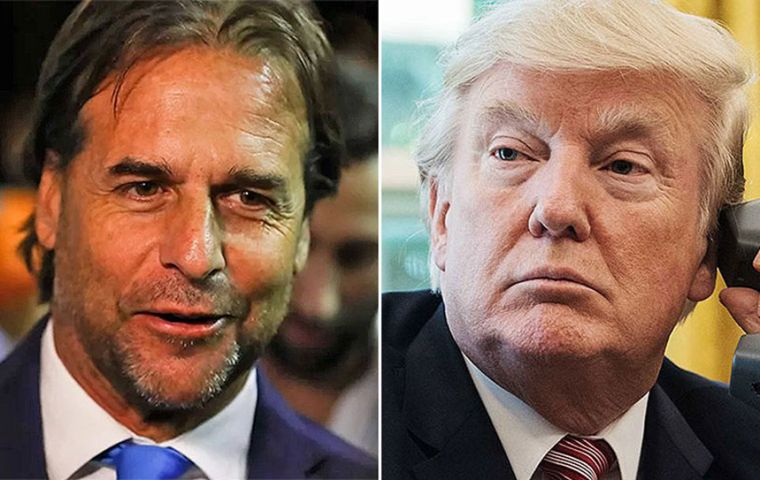 Uruguayan president Luis Lacalle Pou had his first contact with US President Donald Trump last Saturday, reported White House, special advisor, Judd Deere in a tweet.
Deere revealed that "the two leaders emphasized the need for the United States and Uruguay to build a new partnership based on shared democratic values and a deeper diplomatic and economic relationship".
The call took place on Saturday when president Trump was hosting the Brazilian president Jair Bolsonaro, at his private resort Mar-a-Lago in Florida.
On Saturday president Lacalle Pou was in the north of the country, Tacuarembo, at a gaucho festivity, "Patria Gaucha" when there is a roots re-edition of rural life and tradition of Uruguay's cattle breeding history.
This is followed by a parade of riders dressed in gaucho gear and on their beautiful "Criollo" horses, excellent animals for rounding up wild cattle.
The conversation was not revealed until Sunday by Judd Deere, and president Lacalle Pou made no comments about the exchange with Trump.
Foreign minister Ernesto Talvi on Monday asked about the call, admitted he was not aware of what was the substance of the exchange since, "it was a courtesy call, it was a private conversation".
Last January, Secretary of State Mike Pompeo was also on the phone with then president elect Lacalle Pou.
Pompeo congratulated Lacalle Pou for his election victory in November and, according to the US official spokesperson, discussed expanding bilateral economic engagement and deeper cooperation on resolving the Venezuelan humanitarian crisis.
"The United States looks forward to developing a closer partnership with Uruguay based on our shared commitment to strengthening democratic institutions and security in the region".
Lacalle Pou replied at the time that his administration would be very much interested in reaching a trade agreement with the US, to which Pompeo promised he would look into it and have his staff work on the initiative.