Uruguay abandons Unasur and rejoins the TIAR reciprocal assistance treaty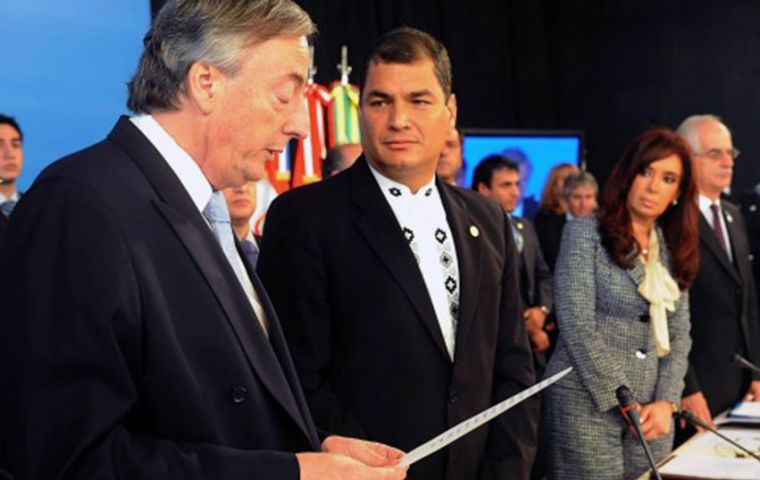 The Uruguayan government announced on Tuesday that it was withdrawing from the Union of South American Nations, Unasur and returning to the Inter-American Treaty of Reciprocal Assistance, TIAR.
"The government of Uruguay has decided to withdraw from Unasur, which has been abandoned by the majority of the countries of the region with the exception of Guyana, Surinam and Venezuela", said a release from the Uruguayan foreign ministry.
"It is a regional body, based in political-ideological alignments and which in fact has ceased to function: it no longer has a seat and lacks an operational general secretariat", adds the release.
Ten years ago Nestor Kirchner was appointed as the first general secretary of Unasur, during an extraordinary summit which took place on 4 May 2010 in the Argentine city of Campana, and a decade later the regional organization has virtually disintegrated.
The regional concept was created in 2008 in Brasilia, with the signing of the Unasur founding treaty, which became effective on 2011 and its functioning signaled the supremacy of the so called progressive countries of the region.
The region at the time had Cristina Fernandez de Kirchner as Argentina's president; Lula da Silva in Brazil; Hugo Chavez in Venezuela; Evo Morales in Bolivia; Rafael Correa in Ecuador, Jose Mujica in Uruguay and Fernando Lugo in Paraguay.
Unasur was present in some of the regional crisis situations until the changes of political color in the different administrations of several member countries, which finally eroded the original idea of a possible "Latin-American unity"
Argentina, Brazil, Chile, Colombia, Paraguay and Peru suspended their membership in April 2018. The first five later announced their definitive departure to which Ecuador later joined in March 2019.
Uruguay was one of the few countries in which a center left government continued to rule. The Broad Front had been one of the main supporters of Unasur and tried to defend it to the very end. But with the electoral victory of the center right and conservative groupings which aligned behind the candidacy of Luis Lacalle Pou in the presidential election of last November, meant a real change.
The new government, the so called multicolor alliance of five parties which took office on March first, has taken just nine days to announce the departure from Unasur.