Covid 19: Mercosur countries isolated from the world and among themselves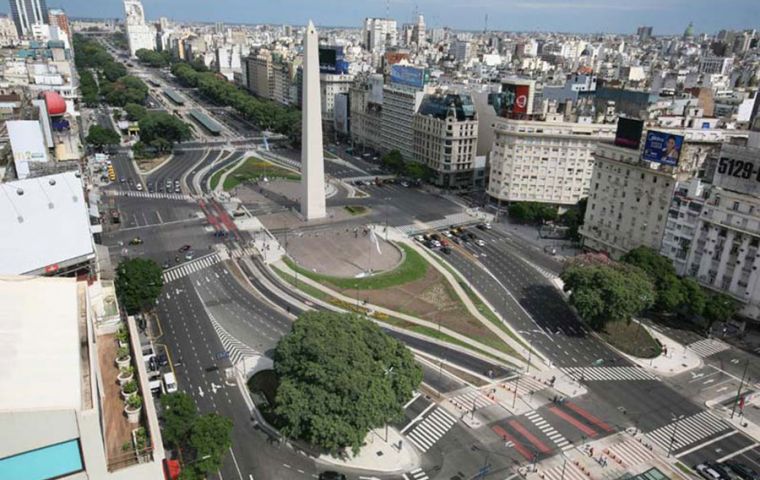 The number of Coronavirus cases tested positive are increasing significantly, in the exponential leg of the process, in Mercosur country members and in Chile. Brazil reported the first death, a 62 year old man in Sao Paulo with a medical record of high pressure and diabetes.
The total number of positive tested cases in Brazil, in the last report late Tuesday evening, from the federal Health ministry reached 291, an increase of 17. However this number did not coincide with the sum of cases from the different states and health departments, 349, which could be attributed to communication problems. A notorious Brazilian who finally was cleared from Covid 19 contagion was president Jair Bolsonaro. However his press officer and the Deputy Economy and foreign trade minister admitted they are under self isolation conditions at their homes.
Most cases are related to overseas trips, mainly Italy, Spain and US, and people with whom they contacted. The state of Sao Paulo has the highest number of positive tested cases, 164, followed by Rio do Janeiro 33, and Brasilia the capital, 22.
In Argentina the number of positive tested case climbed to 79, including fourteen new cases, and the two deaths.
The Health ministry said that transmission conditions have been confirmed in close contacts, which means the situation has not reached the so called "community transmission", which means the virus is "on the loose", as has happened mainly in Italy and Spain, which has forced a virtual quarantine.
In effect of the new 14 cases, twelve are from people who recently travelled or returned from overseas (imported), and two from close contact situations. Of these four were reported in Buenos Aires City, two in Cordoba, one in Chaco, one in Jujuy, one in Salta, one in Rio Negro, one in Entre Rios and one in Santa Cruz. They are all complying with the isolation protocol rules.
However the situation in several provinces that are also suffering from outbreaks of mosquito transmitted dengue have decided to impose a sort of self quarantine, virtually isolating them from the rest of the country. Some of the provinces which have taken these drastic measures, such as "circulation restrictions", meaning everybody at home, include the northern provinces of Chaco, Jujuy, Salta, Corrientes, Mendoza and Entre Ríos.
This decision has been questioned by federal authorities since only Congress or the Executive with legislative support, can adopt such measures, (isolating parts of the national territory), no matter how they call them to avoid institutional litigation.
Anyhow most probably it will not lead to any major constitutional dispute since the Argentine economy already in recession, since at least 2012, and hanging from a default cliff, still has to address a further stoppage, and all its financing.
Besides cutting all contacts from overseas except those flights from Aerolineas Argentinas to pick up stranded Argentines in the world, the government also declared a ban on all public transport, buses, train, ferries, whatever to impede Argentines taking a holiday and force them to remain at home next long weekend, which adds a national holiday..
In Uruguay which was the last to report Covid-19 cases, on Tuesday evening officially confirmed 50 positive tested virus patients, mostly imported and as a result of contact contagion. The country has suspended classes, arrivals from countries with high rates of the virus, and declared a sanitary emergency. This has meant closing shopping malls and all those activities which attract agglomerations.
The harsh measures also include banning all air, fluvial and land contacts with Argentina which, after a conference between presidents Alberto Fernandez and Luis Lacalle Pou, was added to the "bad boys" list given the closeness between the two countries.
A similar measure with Brazil is proving more difficult to implement since its mostly a land border and several frontier towns share public services, and people move freely from one side to the other. A possible option is Army outposts a few kilometers before the Uruguayan towns, helping with customs and sanitary controls.
Finally in Paraguay, ravaged by dengue and with a few cases of Covid 19, schools, and most commercial and leisure activities have been suspended until the end of the month. Likewise with air transport from Europe, Asia, US and countries with high rates of the virus. Besides there is a daily "sanitary quarantine" a sort of curfew from 20:00 to 04: 00 the following morning, with no circulation of persons or vehicles allowed.
Finally associate member Chile officially reported 201 positive tested cases, and for the first time two in Punta Arenas. One a young fellow in his early twenties who worked as a guide for tourists and a man in his seventies, staff member form a maritime agency.
As a consequence of this some seventy people in Punta Arenas are at home quarantine under observation for the next fourteen days.
Apparently there was an incident on Tuesday evening when a Chilean flagged vessel "Ventus Australis" tried to dock and disembark some 300 tourists.
Residents were furious because the Chilean government has declared the cruise season definitively over and here were 300 people mostly Chileans, wanting to land.
Apparently after discussions between Punta Arenas authorities and residents, the cruise travelers were let down previous medical checks, and because the "Ventus Australis" on a ten day trip never called at any foreign port, not even Ushuaia where they were banned from docking.
Last but not least the final count of global Covid 19 disease shows that the number of positive tested cases totaled on Tuesday evening, 199,194, the number of deaths, 7,994 and those recovered, 82,783. The fact to underline is that the number of deaths outside China are now higher than in the Asian country where the highly contagious virus was first detected, and apparently has spread to the rest of the world.