Anglo Theatre from Uruguay performed in the Falkland Islands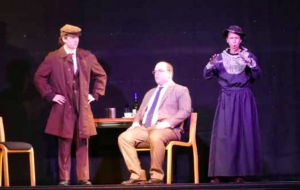 The Anglo Theatre Touring Company arrived in the Falkland Islands ready to entertain children and adults alike, but sadly new travel restrictions in Chile meant they had to leave the Islands earlier than planned.
Luckily there was still time for the children's show in Stanley, enjoyed by KS2 and KS3 students in the Town Hall on Tuesday.
An adaptation of Sir Arthur Conan Doyle's classic locked-room mystery The Adventure of the Speckled Band was performed by director and producer Jack Sprigings with his Uruguayan cast.
The story features Conan Doyle's most famous creations, Sherlock Holmes and Doctor Watson, solving an apparently impossible murder case.
The visit, organized by MLA Barry Elsby, was cut short by measures to combat the COVID-19 pandemic. An over-16 show had been planned for Wednesday night, featuring comedy sketches by the likes of Monty Python and Fry & Laurie. (PN)