Argentina: mandatory quarantine and everybody must remain at home until March 31st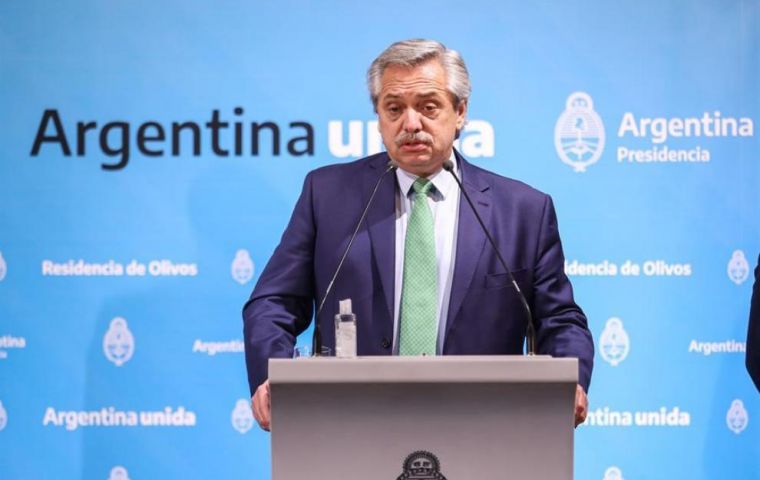 Argentina declared a mandatory preventive social isolation extensive to the whole country beginning midnight Friday until March 31st to mitigate the spread of Covid 19. President Alberto Fernandez made the announcement on national broadcast and standing with him were the leaders of the main political parties.
Exceptional decision for exceptional times said president Fernandez adding everybody must stay at home during the eleven day period, be it not for essential shopping in the neighborhood for food and pharmaceutical products. Security forces will monitor and ensure that everybody remains at home since anybody circulating without a plausible reason will suffer legal consequences.
The exceptional decision and mandatory quarantine will be drafted in an emergency decree, and followed a several hours meetings in Olivos, presidential residence, of Fernandez with governors, cabinet ministers, political leaders and top officials where all possible measures to contain the pandemic were on the table.
The implementation of the obligatory quarantine will be supported by security forces entitled to stop and question pedestrians and vehicles , underlining that everybody must "remain at home". The Gendarmerie, Coast Guard, Federal and provincial polices will be responsible for keeping streets and highways clear of traffic.
Fernandez also announced the integration of a Federal cabinet with the provincial governments to jointly assess the impact of the pandemic in Argentina and anticipated that measures are being considered to alleviate the situation of the self employed and the millions of Argentines who make their daily income in the streets.
The Argentine president said that supermarkets, neighborhood shops and pharmacies will remain open, but starting tomorrow, security forces will stop everybody moving in the streets of any city and request they justify their actions. If in violation of the quarantine, strict sanctions contemplated in the criminal code will be applied.
During quarantine days there will be a minimum service of public transport for those who are exempted from complying with the "stay at home" mandate.
Again no private vehicles can circulate unless they are contemplated in the decree, for example health care staff.
The announcement were accompanied by a personal letter from Alberto Fernandez to the Argentines, amply circulated in social networks and the media, in which the president explains reasons for such drastic measures, (some thirty in total) to curb the spread of the virus and to help mitigate the impact of the global pandemic on the Argentine economy, suffering from a deep recession.
Argentina has already closed its borders for a total of 15 days and suspended flights from highly affected countries.
This Saturday begins the spring in the northern hemisphere and autumn in Argentina, in anticipation of winter with cold, rainy weather, ideal for the spread of the coronavirus, thus the determination of the Argentine authorities to cut contagion as much as possible.