Falklands moves to next COVID-19 response; March 26 referendum postponed for six months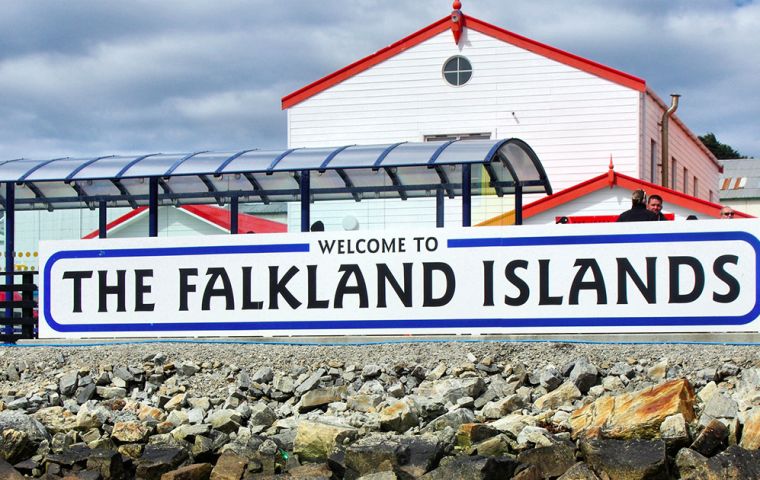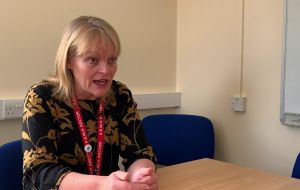 The Falkland Islands Government on Friday moved to the next stage of its response to the global COVID-19 situation. While there are still no confirmed cases on the Islands, the Chief Medical Officer, Dr Rebecca Edwards, says it is now likely COVID-19 is present here.
Dr Edwards said that it would be ideal to confirm positive cases through laboratory testing. "However, the time to get results back from the UK, compounded by air-link disruptions, means that we feel it is important to take a cautious approach, with steps that will maximise the effect of our actions.
"In the absence of confirmed laboratory tests, doctors make assessments all the time based on the symptoms presented and clinical judgment, based on clear international guidance.
"In light of this, and that we have a number of people already self-isolating at our instruction, together with small clusters of cases developing, we consider it likely that some of these cases may be COVID-19. It is prudent that we now act on this likelihood."
Dr Edwards said that people will understandably be concerned and have many questions.
"It is very important that none of us over-react. We need to follow sound health practices to keep ourselves safe. Our health services have been preparing for this stage and we are putting those steps into action."
The Chief Executive, Barry Rowland, is now leading the overall response.
"The Falkland Islands Infectious Diseases Plan sets out stages for the COVID-19 response. We are moving to the next stage. The Falkland Islands has carried out robust preparations for COVID-19. Agencies across Government have also been working on preparedness and linking with businesses."
We are now asking everyone to take the following steps:
1. Vulnerable people must prepare to self-isolate as soon as possible, and no later than the middle of next week, and for the foreseeable future until advised otherwise.
2. Everyone needs to implement social distancing now, reducing any non-essential social contacts.
3. Anyone now arriving in the Islands must self-isolate for 14 days.
4. Think about your travel within the Islands – specifically, those living on West Falkland and outer Islands. People will need to make choices about where they wish to live during this difficult time. If you have issues regarding housing, FIG will work with you to help identify solutions.
We are asking you to do this, to protect the vulnerable and prevent them from becoming ill and to slow the spread of infection within the whole community.
During the next week and following weeks, we will be implementing further actions and advice. We will be updating the public as these are put into effect.
These will include:
1. Restrictions on all non-essential travel both internationally and locally.
2. Possible changes in attendance to schools and nurseries, which will be implemented gradually in the next few weeks.
3. Revised arrangements on the use of FIGAS and Concordia Bay.
4. Changes to the delivery of health services. This includes changes to the way KEMH will operate. We will also introduce increased medical visits to Camp.
5. Contacting those vulnerable people we know of and providing further advice.
6. A range of measures to support the Falkland Islands economy, including businesses and staff, are being developed and will be announced in due course.
Mr Rowland said the response includes stepping up a special Strategic Pandemic Management Group and Executive Council (Contingency) to enhance the response.
Executive Council passed on Friday the Infectious Diseases Control (Coronavirus) Regulation 2020.R. This will give public health authorities and others the ability to enforce assessment and isolation of individuals suspected of having COVID-19.
In a further decision, the Single Constituency Referendum to be held on March 26 is now postponed for six months.
MLA Leona Roberts reiterated that it was crucial for people to listen to and follow health guidance at this point and in the future.
"We are a tight and resilient community. We know how to work together for each other, and that's what we will need to get us through the COVID-19 situation."
Dr Edwards concluded: "We will be informing the public of any direct further public health action we require them to take. KEMH is well equipped to handle COVID-19 cases should we have people needing hospital care.
Information about COVID-19 and steps people can take to keep themselves safe is available at www.fig.gov.fk/covid-19. This includes guidance on self-isolation and other topics. Printed material will be distributed at the Post Office and available at other points such as local businesses over coming days.
Vulnerable people definition
Vulnerable people are people aged over 70, and/or with diabetes, people with heart disease, people with lung disease, people with decreased immune systems, and pregnant women. If you are unsure if you fall into these categories, please call KEMH on 28000.
What to do if you feel unwell and are worried you might have COVID-19
If you have flu-like symptoms, phone the Hospital on 28000. Staff will provide advice. DO NOT come to KEMH directly.
The symptoms of COVID-19 are:
• a cough
• a high temperature
• shortness of breath
• aches and pains in muscles and joints
But these symptoms do not necessarily mean you have the illness. The symptoms are similar to other illnesses that are much more common, such as cold and flu.
Please remember the importance of good public health hygiene measures:
• Always cough and sneeze into a tissue and dispose of the tissue safely in a bin and wash your hands afterwards. If you do not have a tissue, sneeze and cough into the crook of your elbow.
• If you are unwell with any infectious illness, please act responsibly and stay away from people and crowds and isolate yourself as much as possible.
• Avoid close contact with people who appear unwell and avoid sharing personal items.
• Wash your hands regularly with soap and water for 20 seconds or use a disinfectant, especially after coughing and sneezing, and always before handling and consuming food and after using the toilet.