UK considering measures to salvage ruined airline industry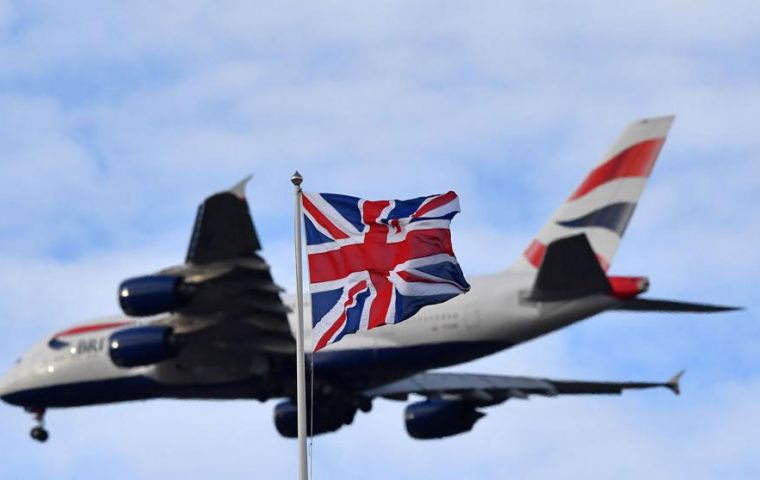 The British government of Prime Minister Boris Johnson is reportedly considering a rescue plan for British Airways (BA) and other airlines which are failing to cope with the coronavirus contingency measures that are keeping their entire fleets grounded.
It is no secret that the UK government has been working on a rescue plan for its airline sector, but it remains to be seen which line of action prevails.
First there were rumours that there were going to be a series of loans available to British airlines so that they could face liquidity problems, but according to The Sunday Times talks to nationalise part of the sector to rid it of bankruptcies are under way. British Airways, Virgin and easyJet are mentioned in the report.
The government could buy British Airways shares at any given time to ensure an inflow of money that would not have to be returned in the medium term, to secure the airline while leaving out a deeper involvement within IAG, holders of a majority stake, according to the report.
Thus, British Airways, which has a structure similar to that of Iberia in Spain, could issue new shares which would be acquired by the Government to reach a controlling 50.01 percent.
In the case of easyJet or Virgin the maneuver would be the same: enter the shareholding.
Nevertheless, IAG CEO Willie Walsh, CEO of IAG, has denied that his group has asked for a bailout from either the British or Spanish governments, indicating that the group opposes nationalisation but rather favours other measures from states and from the European Union to ensure the future of the sector, such as temporarily suspending the refund of the tickets canceled due to mobility restrictions, allowing passengers to be rescheduled to other flights of their choice.
Airlines have also asked for low-interest lines of credit to ensure liquidity as well as late payment of airport and air taxes and shield slots, according to other reports.
Airline industry sources consulted by UK news outlets deem it senseless for British Airways to be nationalised or for the holding company to break down in the process of consolidation. In the case of Iberia Opco Holdings, most of the shares are in the hands of El Corte Inglés to ensure their "Spanishness," although managerial control is held by IAG.
Other scenarios under evaluation include a short-term bridge loan to be repaid in a few months or a much larger long-term loan, limited to what could realistically be repaid within 3-5 years. This could be enough for BA and easyJet, although their liabilities would limit the amount of new loans they could take on in the future. But Virgin's survival would be in doubt.
If these two options fail to raise enough money, the airlines would issue new shares for the government to buy. That move would mean a cash inflow the airlines would not have to pay back. The United Kingdom could later recover the investment on the basis of dividends or by selling their stake on the stock exchange.
In any case, the airline sector did contact the British government seeking help through the Secretary of Transport, according to The Telegraph to escape bankruptcy.
Airlines are currently subjected to strong liquidity stress as they have practically stopped generating income due to the collapse of reserves and because they are being forced to pay millions to the airports hosting their grounded aircraft in addition to fixed costs that cannot be cut. According to The Sunday Times, BA pays £ 200 million a week for that service. Other airlines were forced to leave behind their aircraft at Spanish airports.