Foreign debt must wait: "the pandemic and Argentines' health are priorities"
Tuesday, March 31st 2020 - 12:58 UTC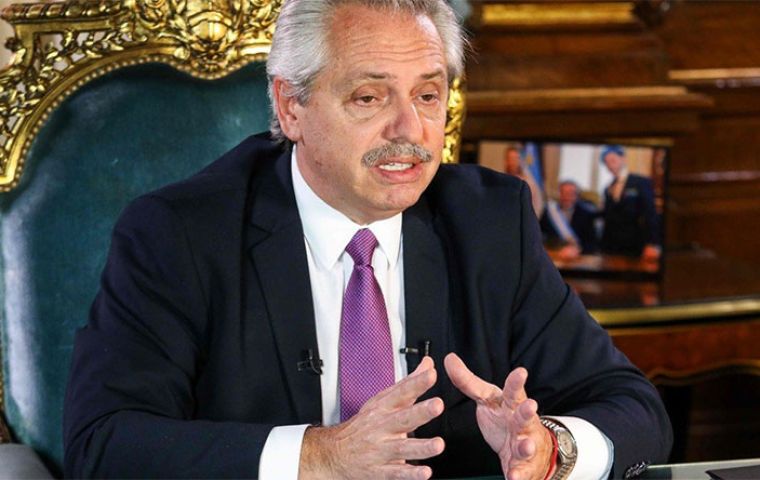 Honoring foreign debt will have to wait because given the coronavirus pandemic priority is now the health of the Argentines, said president Alberto Fernandez on Monday, adding he would not let local companies fire o declare workers redundant.
"Foreign debt will have to wait, the priority is the health of the Argentine people" underlined the Argentine president, saying that self isolation and distancing must be complied because "as a community it is important to dominate the virus, and not that the virus dominates us".
In a long interview with local media, Fernandez renewed the claim he did to the G20 group of world leaders during the recent video conference stating that it was time, given the pandemic, to end with the economic blocks, and outlined that "humanity has witnessed too many miserable actions in recent years, leaving many peoples to the forgotten or marginalized".
Fernandez went further in his argument and said there are countries that for political reasons, are submitted to blockades impeding the access of food and medicines, and thus "we can't stop having solidarity towards Venezuelans and Cuban that under the pandemic have been left to sort it out as best as they can on their own".
As Pope Francis said, "we can't admit the culture and policy of discards which calls on us to discard human beings because there is too many of us and we could live more comfortably without them, instead of building an umbrella large enough that cares and protects us all".
Likewise Fernandez warned big Argentine corporations that have plans to fire workers or send them to unemployment insurance. "This will not happen, there is a basic rule of solidarity that in a situation as we are currently living in, nobody can be left in the street without a job. I've instructed the Labor minister to stop all firings and redundancies. We are going to look after the jobs of the Argentines during the coming months. The Argentine State has invested many resources, so companies do not fire staff".
Fernandez insisted that solidarity is an important component of any community or society, and no community develops if solidarity is absent, "which means giving a hand to the needy, or is worth belonging to if some throw people overboard while others remain in silence and don't react. That is not the kind of society I want for my country. Harmony and solidarity have always been the guiding rules of the Argentine people as a nation".
The comments come were made at a very special moment, March 30, a day before the presidential self imposed and repeatedly announced deadline for a debt agreement with private sovereign bondholders and the IMF. By March 31, the issue had to be sorted out and supposedly, accepted by creditors, as implemented by his foreign debt whiz-economist and Finance minister Martin Guzmán.

Obviously the global pandemic changed the whole scenario, but Fernandez pointed out, "in the case of Argentina we were very clear: we're not paying any debt if it means postponing the needs of the Argentine people, and we also presented a plan. The priority now is Argentina, and at this moment the health and lives of Argentines. (Creditors) must understand the moment we are all going through"
The Argentine president then recalled that the IMF managing director Kristalina Georgieva had made a similar appeal to his, saying Argentine debt was not sustainable and private creditors should take into account such a point. "Let us hope once and for all, the world understands that it is difficult to demand peoples to pay debts instead of dealing with the pandemic, definitively we must wait to pay our debts".