Airbridge flights provide Falklands with a steady flow of Covid-19 test samples
Friday, April 3rd 2020 - 07:57 UTC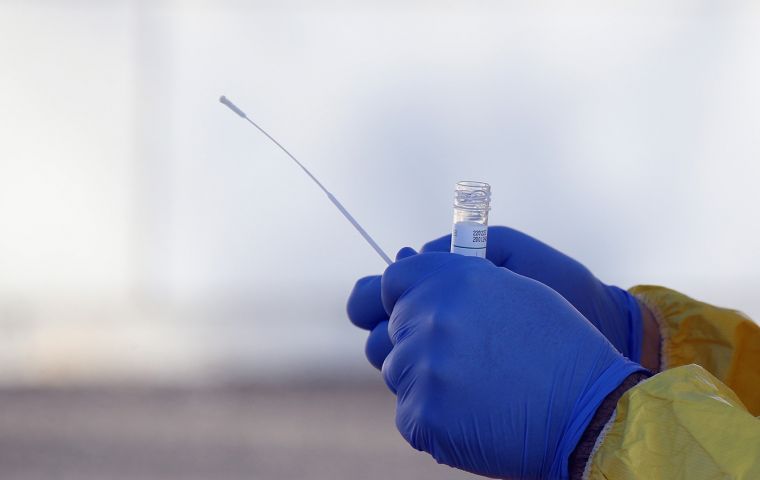 Some 86 tests for COVID-19 from Falkland Islands residents have returned negative results, it was confirmed on Wednesday. A total of 124 tests have been sent for analysis to the UK so far, with some 38 results still awaited. Thus until Wednesday, April first, the Falklands have no confirmed COVID-19 cases.
The negative results include one for the critically ill child who had been admitted to the King Edward Memorial Hospital, KEMH last week.
The five year old girl has been taken off a ventilator and is breathing of her own accord, although she remains seriously unwell. The child is suffering from a serious viral respiratory infection, for which she remains under treatment and is not longer in the isolation section of KEMH.
However there are two patients currently at KEMH who were earlier transferred from MPA for care and observation. Neither are receiving ventilation care but are in the isolation section of the hospital as a precaution. Samples have been taken from both patients for UK testing.
KEMH is well positioned to provide care should there be COVID-19 cases requiring a serious level of care, FIG confirmed this week. Director of Health and Social Services David O'Neill said the 29-bed hospital has been reconfigured to handle potential cases, while also preserving space for other patients.
A number of KEMH's beds will be purposed for care of the more seriously ill.
KEMH has plans to manage up to seven ventilated patients if the need arises. As well, the hospital has a number of other devices that assist breathing, but which are non-invasive.
As reported earlier KEMH has recruited extra anesthetic and surgical staff, and other medical staff. There are currently 10 senior medical staff to lead the care. The hospital continues to augment its stocks of drugs and medical supplies through air arrivals, and test samples are being sent for processing in the United Kingdom.
In addition to KEMH's pre-existing local capacity, UK's the Ministry of Defense has deployed a team of six staff to supplement and be embedded in the FIG medical team and under the direction of the Chief Medical Officer.
The group of six from 16 Medical Regiment belong to the Merville Barracks in Colchester. The airborne medics took equipment and personnel to provide an extra two beds to the three-bed intensive care unit at KEMH.
One of the medics deploying to the Islands is Capt Marie Llewellyn, who is an intensive care nurse. "We're taking ventilators, oxygen and medication for two beds, and the nurses to run them so that we're a self-sufficient addition to the hospital.
16 Medical Regiment provides medical support to 16 Air Assault Brigade, which is known as the British Army's global response force, and is trained and equipped to deploy on operations by parachute, helicopter or air landing.