Falklands ensures vital supplies for West Falkland and other islands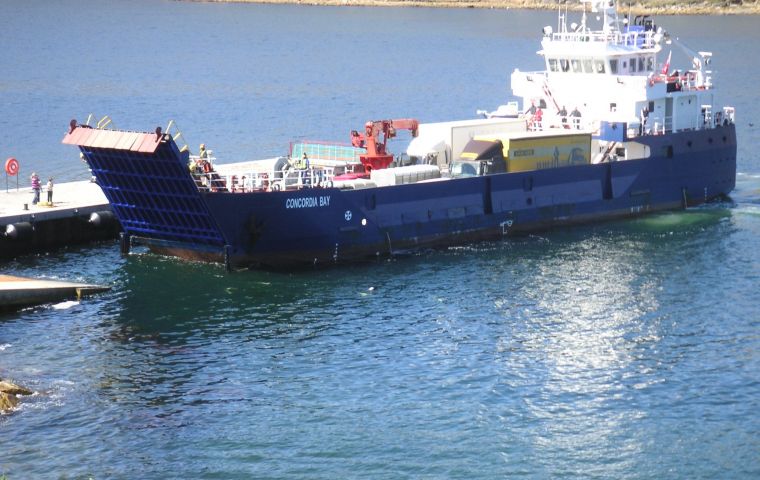 Although Falklands have no anticipated difficulties with sea freight logistics to supply the Islands, nevertheless it has the challenge of maintaining West Falkland and the other outer islands with the necessary provisions. Let us not forget that the Falklands are an archipelago that includes two main landmasses and some 700 minor islands.
This responsibility falls on Workboat Services Ltd's, the ferry company that links East and West Falkland and thus it is vital to protect the crew of the Concordia Bay from illness.
With that aim, the schedule for April has been cancelled and a new schedule to resupply West Falkland and the Islands has been released.
These delivery voyages are for vital supplies, e.g. food, fuel, general consumables after which vehicles, building materials and other general cargo will be accommodated if there is capacity.
However if you have a specified urgent requirement please contact Workboat Services and they will try to assist if possible. It is vital to enable efficient use of the ferry that users of the Concordia Bay contact Workboat Services well in advance. Their email is admin@workboat.co.fk
The SE Islands delivery for all SE islands, Fox Bay and Port Howard will now take place as follows,
Cargo Receiving: 8 and 9 April
Deliveries: 13 – 19 April.
(Please note that cargo will be accepted for Port Howard on this voyage)
The next West Islands delivery for all the Western islands will take place as follows
Cargo receiving: 23 and 24 April
Deliveries: 27 April – 3 May.
Please note that these dates may well change as circumstances change.
The Falkland Islands government will continue to work closely with the business sector and logistics partners to ensure supply links remain strong. Even when some items are currently unavailable locally due to unusual purchasing patterns, the majority of stock in the Falklands is at normal levels, which for most major suppliers is sufficient to fulfill 1 to 3 months expected sales.