Falklands Office in London remains open for business and stranded Islanders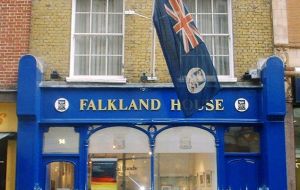 On the advice of the UK Prime Minister, the Falkland Islands Government Office in London is closed and all staff is working from home. Despite this FIGO is working as normal and remains available to help all Islanders in the UK, Falkland Islands organizations, FIG, and anyone traveling to and from the Islands.
FIGO underlines, please do not hesitate to contact them, they are there to help.
If as a result of COVID-19 you are in need of additional help, whether that be financially or with practical things like shopping, please do not hesitate to contact us and we will do our best to help in any way we can, whether that is putting you in contact with help locally or signposting you to another source of help.
Points of Contact

Airbridge – Please contact our Travel Co-Ordinator Teryn Joshua on either 07984 096 726 or travel@falklands.gov.fk.
Medical – Please contact our Medical Co-Ordinator Gemma Clayphan on either 07903 379 006 or reception@falklands.gov.fk.
Students – Please contact the Deputy Representative Michael Betts on deputyrep@falklands.gov.fk.
For all other queries regarding COVID-19 or any other issues, FIGO can be reached via 020 7222 2542 (message will provide a range of contact information due to office being forced to close until further notice) or reception@falklands.gov.fk.
Likewise, FIGO recalls that people may have noticed that the UK Government has been arranging repatriation flights for stranded British Nationals (UK tourists and business travelers) unable to return because of disruption to air routes.
The Falkland Islands Government, FIG, would like to clarify that these flights are not for repatriating British Nationals who are in effect 'resident' or working in the Falkland Islands.
FIG also points out that the people are aware, the LATAM commercial air routes (via Chile and Brazil) have ceased for a month, but the Military Airbridge flights are still operating, flying twice a week back to the UK.
Anyone, from any country who is currently in the Islands who needs to discuss their personal situation further should talk to their employer either in the private sector, or if employed by Government, contact their manager.
FIG recognizes this is a stressful time for all, particularly those with family in other countries.