Falklands: five cases of COVID-19, all of them serving at Mount Pleasant Complex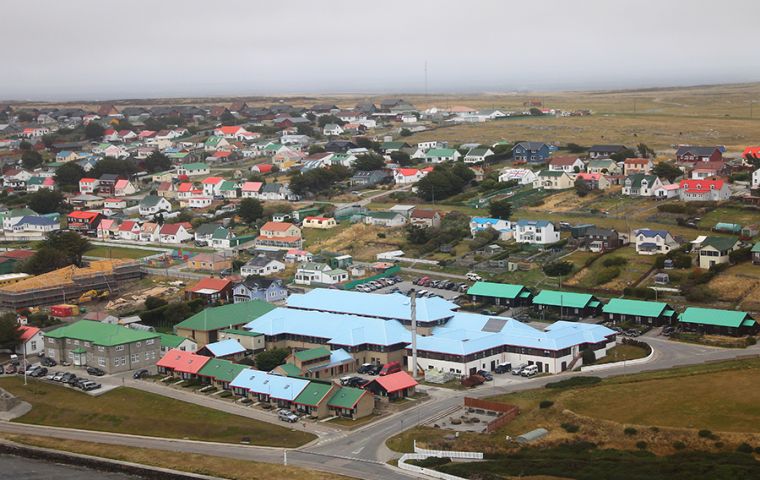 The Falkland Islands government announced on Wednesday that there are five confirmed cases of COVID-19, all individuals currently serving at the Mount Pleasant Complex, some fifty kilometers from the capital Stanley. This means no residents of the Islands have been contaminated with the virus.
Of the five, one continues to receive care at King Edward VII Memorial Hospital, (KEMH), while the second has now been discharged from the hospital. He was the first case to be tested positive of COVID-19 in the Falklands. The other three individuals are in isolation at MPC as part of the ongoing arrangements for dealing with possible cases.
FIG (Falkland Is. Governement) also reported that of the 137 samples in total been tested so far in the UK, 131 have tested as negative. The remaining six swabs were from the five individuals who tested positive for COVID-19. Likewise KEMH continues to take test swabs and these will be sent to the UK on the next northbound Airbridge flight.
The young girl who came down with a serious respiratory condition unrelated to COVID-19 was discharged at lunchtime on Tuesday April 7.
FIG also announced it continues to work closely with BFSAI (British Forces South Atlantic Islands) to manage movements between Stanley and MPC. BFSAI have existing measures in place to restrict movement from MPC to Stanley.
FIG are working to support BFSAI around these travel arrangements in an effort to minimize travel between the two locations and to ensure only essential journeys are undertaken. In ensuring the integrity of journeys between Stanley and MPC, the RFIP will be carrying out selective checks on vehicles.
Anyone traveling from MPC must have written authorization with them. People traveling in from Camp may be stopped, in which case they will be offered advice on local distancing.