"A bomb" hit Ecuadorean city of Guayaquil: "no space for the living or the dead"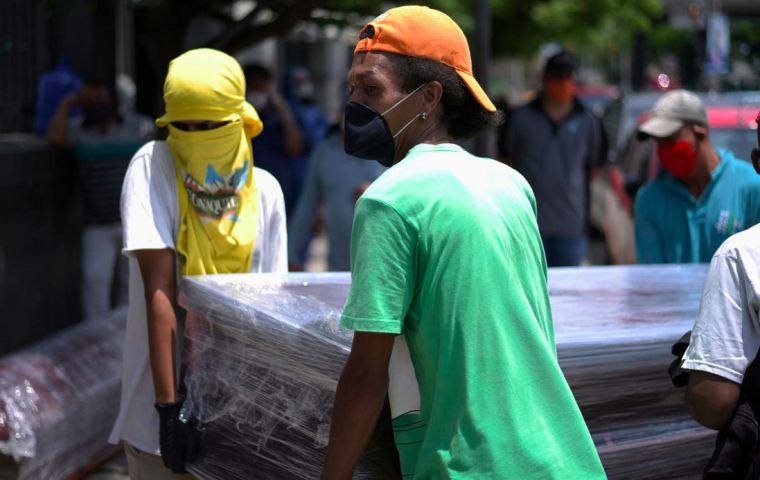 Ecuador's economic capital Guayaquil is reeling from the most aggressive outbreak of COVID-19 in Latin America after the pandemic hit the city "like a bomb," its mayor said. Cynthia Viteri has emerged from her own bout with the virus to battle the worst crisis the port city of nearly 3 million people has known in modern times.
"There is no space for either the living or the dead. That's how severe the pandemic is in Guayaquil," Viteri said in a phone interview.
Mortuaries, funeral homes and hospital services are overwhelmed, and Viteri said the actual death toll from the virus is likely much higher than the official national figure of 369. Guayaquil accounts for more than 70 per cent of Ecuador's 7,600 infections since Feb 29.
The 54-year-old mayor admitted the city was "unprepared" for the onslaught. "Nobody believed that what we saw in Wuhan, people falling dead in the streets, would ever happen here," he said.
Now authorities are forecasting a death toll of more than 3,500 in the city and its hinterland in the coming months.
Guayaquil proved especially vulnerable to the virus because of its air links to Europe, Viteri said. The first case of infection - Ecuador's "patient zero" - was of an elderly Ecuadoran woman who arrived from Spain.
"This is where the bomb exploded, this is where patient zero arrived, and since it was vacation time, people traveled abroad, some to Europe or the United States, and our people who lived in Europe came here," Viteri said.
"And when they arrived there were no controls like they should have been if we had known that this was already coming by air. And the city of Guayaquil simply convulsed. Too late, the city went into lockdown as authorities imposed a 15-hour curfew and bodies began to accumulate in homes, and even on the streets.
"The health system was obviously overwhelmed, the morgues overflowed, the funeral homes overflowed."
Guayaquil's authorities "are not the villains of the world," Viteri insisted. "We are the victims of a virus that came by air" that she said echoed the yellow fever that devastated the city when it came over the sea from Panama in 1842.