Argentina is readying to announce terms of the US$ 83bn debt restructure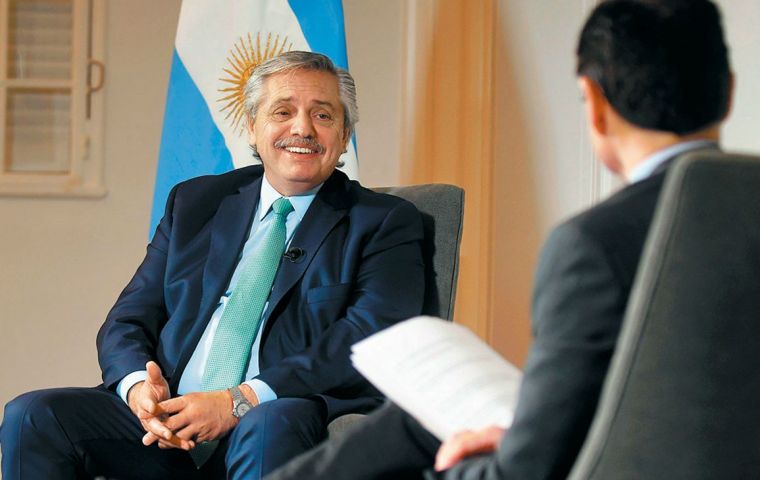 Argentina is expected to announce an offer to restructure US$ 83 billion in foreign-currency bonds any moment as it tries to avoid default, despite shutting down the economy to contain the spread of the coronavirus.
"We will make the offer in the next few days," President Alberto Fernández said late on Sunday in an interview with a local television channel.
The Fernández administration had wanted to restructure its international bonds by March 31, but the spread of the coronavirus delayed negotiations as authorities shifted their focus to dealing with a worsening health crisis. The virus has gone from one confirmed case at the start of March to 2,443 cases and 105 deaths as of Tuesday, according to the daily health officials report.
Despite the setbacks, the president said that talks with bondholders "are going well" and added that he hopes to sign a deal that will be "something that we can fulfill as a government and as a country."
The government has not provided specifics on what the offer could entail, but Economy minister Martin Guzman said that it will seek a grace period of interest payments along with longer maturities, lower coupons and a possible haircut.
The International Monetary Fund (IMF), Argentina's largest creditor with US$ 44 billion loan, has come out in support of such an offer, calling on the private bondholders to make a "meaningful contribution", so that Argentina can pull out if its financial crisis and "non sustainable debt"
"I don't want to commit to signing something that we cannot fulfill," Fernández said in the televised interview. "We are going to make an offer that can be sustained over time, an offer that we know we will be able to fulfill, taking into account the situation in which Argentina will be after the coronavirus."
The government shut down the economy on March 20 to slow the spread of COVID-19. It has since extended the lockdown until April 26, bringing most activities to a halt and ordering people to stay home except to buy essentials like food.
When asked if the impact of the lockdown could mean that bondholders will be asked to take greater reductions, Fernández said, "Yes, we could say that," but he went on to say that it could mean longer maturities as well.
However a bondholder involved in negotiations said Argentina was heading towards a "hard" default, with no prior agreement with investors. "It is very hard to be optimistic," this person said.
Prices of Argentina's sovereign dollar bonds have plummeted in a broad sell-off of riskier assets due to the coronavirus pandemic, to levels suggesting investors expect an imminent default.
The country's international bond maturing in April 2021 has fallen 45% since the beginning of March and now hovers around 30 cents on the dollar. The country's once-vaunted 100-year bond, issued in 2017, has plunged to 26 cents on the dollar, a more than 35% fall since the beginning of March.
The big test will come on April 22, when Argentina is due to pay about US$500m to bondholders, especially when the country's net foreign exchange reserves have dwindled to about US$12bn.
The Argentine economy, already in its third year of recession, is expected to shrink 5.2% this year, according to projections from the World Bank published on Sunday. Most economists had expected a drop of 1% before the coronavirus outbreak.
While the foreign-currency bonds will be restructured, Fernández said the government will not renegotiate its peso-denominated notes in the local market. "We are going to comply with the debt in pesos because it is with people who put their trust in the Argentine currency," he said.
The big question, however, is whether the holders of the foreign-currency bonds will accept the offer. Goldman Sachs said "the odds of a friendly resolution to Argentina's debt situation have diminished considerably" because of the coronavirus crisis.
In a note to clients, economists at the US investment bank warned that dealing with the outbreak will not only slow the economy, but also put a large burden on Argentina's fiscal accounts, which will reduce "the present discounted value of the expected fiscal cash flows backing any restructuring proposal."
What is more, some investors "may be reluctant to accept significant losses (especially reductions in the face value of principal and coupons) without a commensurate 'fiscal sacrifice' by the government," Goldman Sachs said.
It added that the global reach of the COVID-19 crisis means that bondholders are facing many challenges for their "focus and interest" that is "creating further headwinds to a smooth and expeditious negotiation process."