Some 13.000 of UK's defense workforce absent from their usual place of work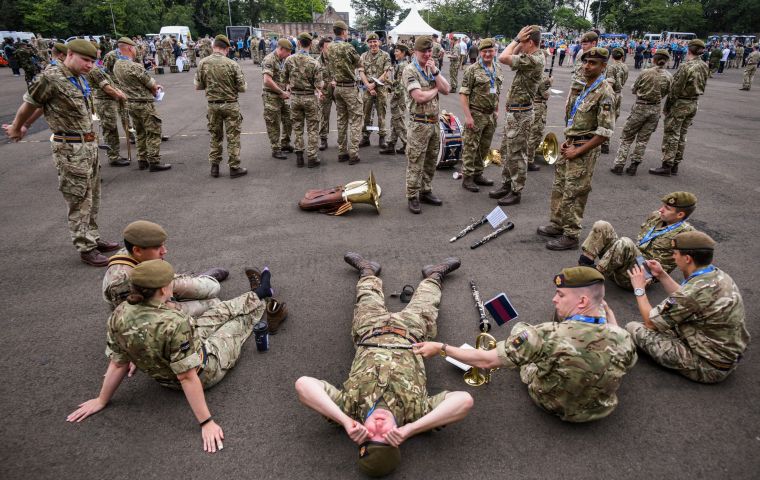 A total of 9.1% of the United Kingdom defense workforce has reported as being absent from their usual place of work on Thursday due to reasons related to COVID-19. The figure, which equates to around 13,000 staff, includes personnel from both the regular and reserve force, according to the British Forces network.
Fewer than 100 service personnel have tested positive for coronavirus, including the eleven cases in the Falkland Islands. However, with many working from home, or self-isolating to protect or support family members, it is believed a substantial number are continuing to contribute to defense.
COVID Support Force deployments have not been affected.
The 9.1% is much less than the 20% allowed for during contingency planning, when the COVID Support Force was first formed.
With just 3,000 of the 20,000 personnel on standby currently deployed, UK service chiefs say they are confident operations will not be affected.
John Healey MP, Labor's Shadow Defense Secretary, responded to news by saying: "These concerning figures make Labor's case for greater protections and more testing of forces personnel even stronger.
"Our armed forces keep us safe. It is vital we do the same for them."
The Liberal Democrats' defense spokesperson, Jamie Stone MP said 13,000 personnel being absent was "deeply concerning".
"They have been crucial to our response to the pandemic, providing specialists to local resilience groups, our local authorities, and emergency services," he said.
"Our armed forces must have all the PPE they need and access to testing if they are to effectively combat coronavirus. It is not enough to say thank you."