Taiwan reveals emails warning WHO of disease in December; Dr. Tedros replies accusing Taipei of a hate racist campaign
Friday, April 17th 2020 - 09:57 UTC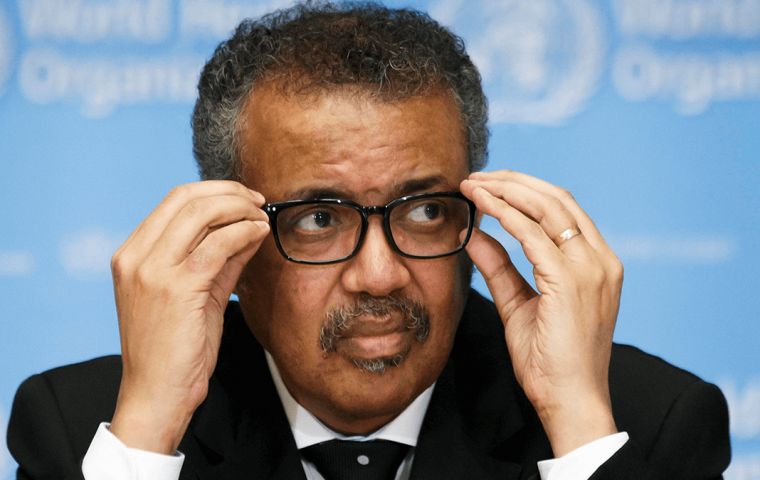 The coronavirus pandemic has infected over two million people and has caused the reported death of at least 144,250 deaths according to the latest info available from the the John Hopkins University daily update.
WHO which is leading the global combat against the pandemic has lately come under questioning for its management of the campaign and allegedly "China centered" focus on the issue. President Trump has decided to suspend its WHO financing, (US$ 450 million) and several countries have not gone that far but have many questions.
Likewise Taiwan, which is claimed by Beijing, according to their stats numbers has had proven effective results in containing the spread of the disease, via a strict lockdown, as it was one of the first countries to report the existence of the coronavirus and its lethality, because of its dangerous "human to human transmission" also informed WHO authorities of the facts, despite not belonging to the organization.
Beijing claims the democratic republic island as a breakaway Chinese province and with its formidable diplomatic weight and purse has increasingly isolated Taiwan.
WHO hierarchy have denied any forward warning and director-general, Dr. Tedros Adhanom Ghebreyesus, has called the Taiwanese liars and sponsors of a hate, racist global campaign against him, an Ethiopian.
However evidence has emerged, basically that the Taiwan Centers for Disease Control (Taiwan CDC) through a letter had warned WHO in the last week of December 2019 about the human-to-human transmission of the new Coronavirus.
Director-General of WHO, Dr Tedros denied that Taiwan ever alerted WHO to the possibility of human-to-human transmission. WHO stated that it did receive an email from Taiwan on December 31, 2019 which mentioned, "Press reports of cases of atypical pneumonia in Wuhan and that Wuhan authorities believed "it was not SARS", or Severe Acute Respiratory Syndrome which killed 774 people in 2002 and 2003. There was no mention in this mail of human-to-human transmission."
In response to WHO's denial that Taiwan ever alerted it to the possibility of human-to-human transmission of COVID-19, the Taiwan Central Epidemic Command Center made the following statement:
1. The Taiwan Centers for Disease Control (Taiwan CDC) learned from online sources that there had been at least seven cases of atypical pneumonia in Wuhan, China. In China, the term "atypical pneumonia" is commonly used to refer to SARS, a disease transmitted between humans caused by coronavirus.
2. Owing to its experience with the SARS epidemic in 2003, Taiwan vigilantly kept track of information about the new outbreak. On December 31, 2019, Taiwan sent an email to the International Health Regulations (IHR) focal point under the World Health Organization (WHO), informing WHO of its understanding of the disease and also requesting further information from WHO. Given the lack of clarity at the time, as well as the many rumors that were circulating, Taiwan's aim was to ensure that all relevant parties remained alert, especially since the outbreak occurred just before the Lunar New Year holiday, which typically sees tremendous amounts of travel. To be prudent, in the email we took pains to refer to atypical pneumonia, and specifically noted that patients had been isolated for treatment. Public health professionals could discern from this wording that there was a real possibility of human-to-human transmission of the disease. However, because at the time there were as yet no cases of the disease in Taiwan, we could not state directly and conclusively that there had been human-to-human transmission.
3. The Taiwan CDC also contacted the Chinese Center for Disease Control and Prevention in a bid to obtain more information. However, in response to our inquiries, the WHO IHR focal point only responded with a short message stating that Taiwan's information had been forwarded to expert colleagues; China provided only a press release.
4. Even though Taiwan strongly suspected that human-to-human transmission of the disease was already occurring at the time, we were unable to gain confirmation through existing channels. Therefore, on the day the aforementioned email was sent to WHO, the Taiwan government activated enhanced border control and quarantine measures based on the assumption that human-to-human transmission was in fact occurring. These measures included screening passengers on flights from Wuhan prior to disembarkation.
5. In mid-January, the Taiwan CDC dispatched experts to Wuhan to gain a better understanding of the epidemic, the control measures taken there, and patients' exposure history. Based on preliminary research, Taiwan determined that this form of pneumonia could indeed spread via human-to-human transmission.
The closeness of Dr Tedros with China is no longer a secret, according to president Trump who now even questions the Chinese stats, and Taiwan which argues that Dr. Tedros soft-stand towards China is because reportedly China backed his election campaign to the post of Director-General of WHO.