The Falklands' tourist season that fell off the cliff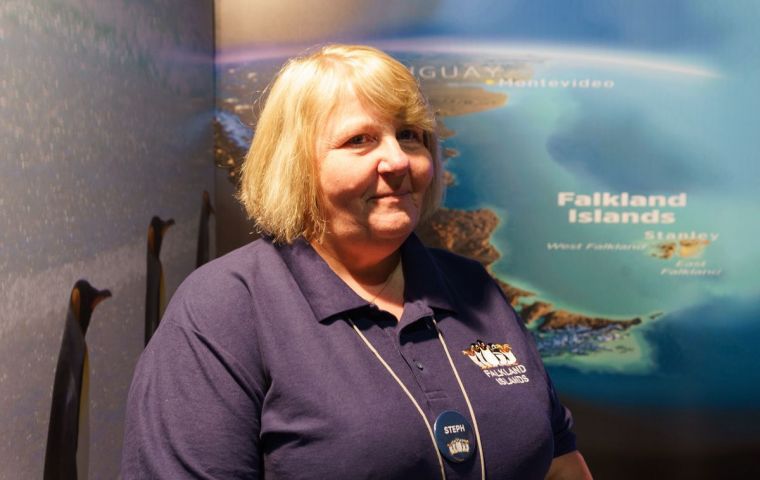 The 2019/20 tourist season is likely to be remembered as, "the one that fell off the cliff in March," summed up Falkland Islands Tourist Board Executive Director Steph Middleton this week. But despite the impact of the pandemic it wasn't all bad up until then confirmed, Mrs. Middleton and other industry members.
Mrs. Middleton said up until March all the statistics indicated that, "it was going to be an exceptionally good season for both land-based and cruise tourism." They are awaiting the final figures from immigration but offered other pointers to assess the season.
She said an indication of the strength of the cruise season was reflected in the number of visitors to the Jetty Visitor Centre with almost 82,000 passing through its doors over the period October-March, "up 10% on the previous season," said Mrs. Middleton.
Serviced accommodation performed exceptionally well, beating all previous occupancy levels until March. Overall, for the season an average room occupancy rate of 58.6% was achieved, compared to 53.3% last season.
She said the Falkland Islands Government Air Service carried more tourists than ever before (2,711) over the period October- February, up 15.6% on the same period the previous year. However, traffic fell 87.2% in March with only 89 tourist flights; so the number of passengers carried will be down 7.9% on the previous season.
She assured that the Tourist Board was closely monitoring international developments in the tourism sector as the COVID-19 pandemic unfolded, and was producing a fortnightly update.
The is available at www.com/trade/covid-19-advice.
At present, FITB forecasts a fall in land-based tourists of between 10%-20%, however this is still being continually reviewed, as are the cruise ship schedules, said Mrs Middleton.
Penguin News also spoke to the Falklands' main shipping agents, Sulivan Shipping limited and the Falkland Islands Company (FIC).
Sulivan Shipping
Tourism Coordinator Carli Sudder of Sulivan Shipping said wryly that the 2019/2020 season "has certainly been one of many challenges. Final stats are still being worked on but there have certainly been ups and downs."
She said at the beginning of the season the One Ocean Cruise line situation [trips cancelled due to financial difficulties] brought about, "a decrease in our passenger turnarounds along with pre/post cruise ships visitors."
Throughout the season the weather and tendering proved challenging, said Carli, "and in some cases unworkable with calls cancelled and guests being called back to the vessel early."
After that came the end of the cruise season due to the COVID-19 situation.
On a bright note however there were more cruise ship landings in Camp than in previous years: "The Falklands is still a popular destination with cruise ships guests with good uptake and an increase in shore excursion numbers and positive feedback from visiting guests. Our tour operators, drivers and guides put in a lot of hard work to achieve this, for which we are very grateful. We saw a number of new vessels visit such as the Hondious (Oceanwide), Hanseatic Nature and Inspiration (Hapag Lloyd), Roald Amundsen (Hurtigruten) and Greg Mortimer (Aurora) and look forward to seeing them return in future seasons."
Sulivan Shipping Services Limited was agent for all vessels that came to the Falklands for the repatriation of their guests when other countries in the region refused them entry.
Repatriation
Ms Sudder said: "This was one of our biggest undertakings since the L'Boreal fire back in 2015. Guests from Fram, Roald Amundsen, National Geographic Explorer and Orion, Island Sky and Hebridean Sky all began their journey home from the Falklands via chartered flights. Although passenger disembarkation and charter flights are not unfamiliar to Sulivan, for a ship the size of the Roald Amundsen this was a first for us.
Working with FIG and other Private Sector companies such as ITT and FITT, the whole repatriation operation was successful with guests showing so much appreciation and thanks for the Falklands being open to them to get home after facing being turned away from other ports in South America. We are still receiving messages of gratitude."
She said for next season they are optimistically planning "as we normally would during the winter months, however we must remain realistic and we continue to monitor the industry and the COVID- 19 updates along with working together with our clients and colleagues in moving forward."
Falkland Islands Company
Penguin Travel Manager Gabbi Hoy, representing the Falkland Islands Company, was able to report that despite the season ending early, "that did not actually affect FIC as our last ship was on March 13. The only thing that did affect us was the amount of tours sold. The virus had an impact by passengers not wanting to disembark due to fears of catching COVID-19. The large majority of passengers off the ships were in the high-risk age bracket."
However despite this said Ms Hoy: "The season went well with over 20 ships calling in that FIC have as tour and port agents. Only a handful of ships cancelled with the Island Princess allowing her passengers off the ship but no guests allowed on tours, which proved to be a first."
She said next season Holland America is replacing the Zaandam (approx. 2000 passengers) with the Westerdam (approx 1500 passengers).
Ms Hoy said: "As it stands I am very busy preparing for the 2020-2021 season and even the 2021-2022 season at the moment. There is of course uncertainty at this time, however the cruise industry has hope that this will pass and therefore that means business as usual for us at Penguin Travel, albeit from home."
Hotelier Alex Olmedo
Seeking a glimpse of the impact of COVID-19 on the hospitality industry Penguin News spoke to Alex Olmedo of the Waterfront Boutique Hotel and Kitchen Café.
He reported: "We had one of the best tourist seasons ever not only for hotel accommodation but also for the restaurant and café business."
But, he added: "We were looking forward to a busy shoulder season from mid March until the end of April with confirmed hotel bookings for both leisure and business customers, sadly this all came to an abrupt halt on March 13. After the announcements by the UK Government, all our hotel bookings were cancelled and then after the local Government announcements with regard to social distancing and self isolation we had no customers so we took the sad but sensible decision to close the business."
Mr Olmedo explained: "We operate all year round, the hotel is less busy from May until August but we [normally] have enough business from the local market to keep the restaurant and cafe operating during the winter months."
He indicated their hopes were dashed in other areas too. "We were also very optimistic with regard to the LATAM Sao Paulo route as this was beginning to be more popular in particular with families from Brazil."
He said: "We are completely closed so we have no revenue at all, ZERO INCOME, the nature of our business requires visitors and customers in order to provide accommodation, food and drink. We are totally understanding of the current situation and follow the instructions given by the government in order to protect the public and our employees. It is not viable for us to operate any other services."
Mr Olmedo said they would be applying for business financial assistance when needed "but this is only the beginning, the Falkland Islands has a strong and sustainable economy, we will bounce back very quickly once this is all over but at the moment we do require support and assistance to go through this difficult period of time."
He congratulated the Falklands Government saying: "FIG is doing the right thing by supporting our workforce and not having to lay off employees, this is key to keep the economy going, regain confidence and sustain businesses.
"We really miss going to work, seeing our customers and providing a service to the community/ visitors, we are confident in our Government and with their guidance and support we shall meet again." (Penguin News).-