Brazilian stocks plunge 9.6% and the Real sets a new record low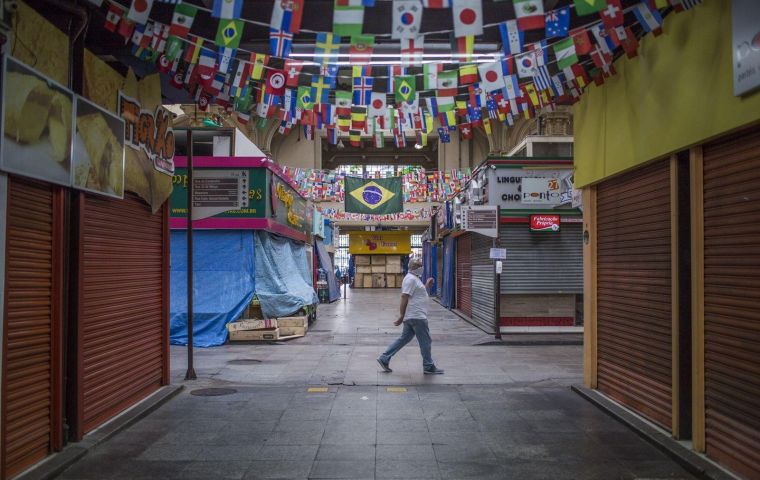 Brazilian stocks sank as much as 9.6%, and the Real slid to new lows on Friday as political turmoil in the country added to mounting concerns over the coronavirus outbreak, while risk aversion ravaged Latin American markets.
Brazil's markets were rattled after the country's popular Justice Minister Sergio Moro announced his resignation on Friday, accusing President Jair Bolsonaro of political interference in law enforcement.
The dispute comes as Bolsonaro faces widespread criticism for his handling of the virus spread in the country.
Moro was one of Bolsonaro's two "super ministers," along with Economy Minister Paulo Guedes.
On Friday, the Economy ministry said that Guedes canceled a live online discussion to be hosted by Banco Itau at 10:30 am local time. Analysts said it was a consequence of rising volatility across local financial markets and deepening political uncertainty.
The risk is that Congress, or Bolsonaro, decide to abandon the fiscally conservative tenets advocated by Guedes, resulting in his departure from the administration," said Gustavo Rangel, chief economist, LATAM, at ING.
Such an event would be especially negative for local assets and could ultimately threaten the sustainability of Bolsonaro's own administration."
The Real marked its third straight session hitting a record low, and was set to end the week down about 8.6% - its worst in more than a decade. Sao Paulo's benchmark stock index eyed its worst session since mid-March.
Data also showed that industrial confidence in Latin America's largest economy crashed to record low levels on Friday, further marring the outlook for an economy already wrought with flailing fundamentals. The currency is already down almost 30% so far this year, while stocks 35%.