"Brazil on the path to prosperity, not in the path of despair as Argentina and Venezuela"
Tuesday, April 28th 2020 - 06:55 UTC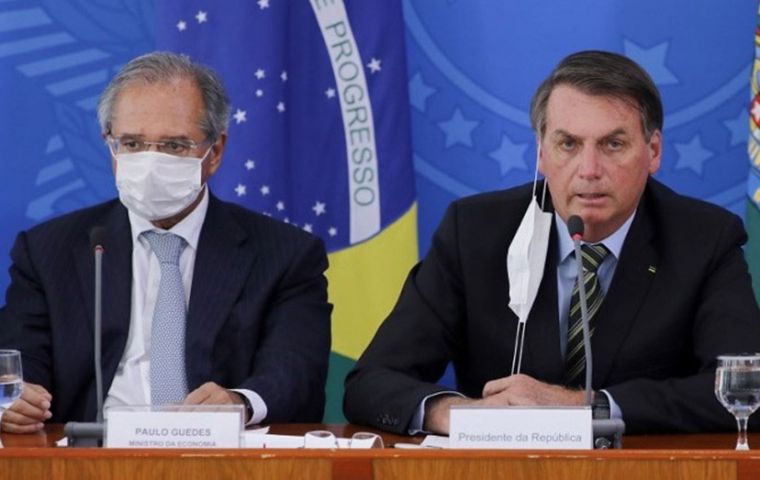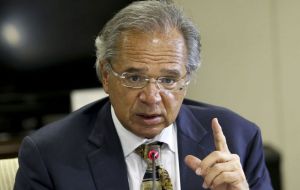 "We're on another path, the path of prosperity, not in the path of despair", said Brazilian economy minister Paulo Guedes when asked about Argentina's decision to partially abandon Mercosur. It was also an opportunity for president Jair Bolsonaro to openly express support for his the "super" minister, who seemed strongly weakened following the forced resignation of the other "super" minister Sergio Moro.
Speaking on Monday next to president Bolsonaro, minister Guedes said that Brazil does not want to become an Argentina or a Venezuela, and that is why we will continue along the path of prosperity, "opening our economy in a framework of fiscal stability"
Guedes attended a cabinet meeting with Bolsonaro and ministers in which he received full support from the president, who has suffered an erosion of backing from public opinion after Justice and Public Security minister Sergio Moro, the most popular figure of the cabinet given his previous performance as a magistrate exposing and combating corruption in the Brazilian political system, stepped down.
"Brazil is going to surprise the world" Guedes said following the meeting in direct reference to his forecast on Latin America's largest economy recovery following the coronavirus pandemic.
When asked about the so called Pro-Brazil, an economic development plan announced last week by the military wing of Bolsonaro's cabinet, with the purpose to promote growth with strong government support and which Guedes opposes, the minister said it was "a collection of prospects involving infrastructure and the building industry".
"Now these plans are going to be in the framework of our fiscal stability program. We simply do not want to become an Argentina or a Venezuela, we are, as I said before on another path, the path of prosperity and not on that of despair".
Believe me, Guedes underlined, "Brazil is on track to prosperity, we are going to prop salaries with an increase in productivity, we are privatizing, opening the economy and boosting investments".
Bolsonaro reaffirming support for the minister told the media that Guedes "is the man who decides on the economy" in Brazil. "He sets the north, he gives us the recommendations and what we must really follow", insisted the president.