Pandemic: Argentine armed forces major deployment since the Malvinas war
Tuesday, April 28th 2020 - 08:22 UTC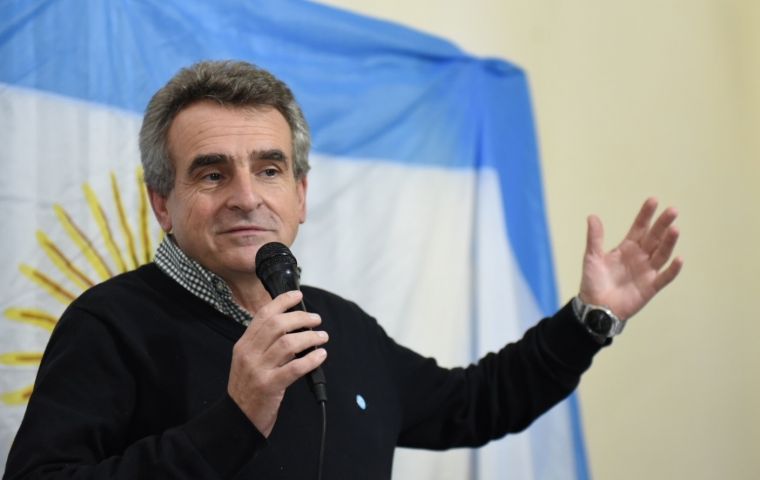 The combat to contain coronavirus has been the major deployment of the Argentine armed forces in democracy, some 22.000 staff are out on the field throughout the country, said Defense minister Agustín Rossi, and to be more precise, "the largest deployment since the Malvinas war, and it has been done following the existing legal framework".
Rossi made the statement during a videoconference shared with the members of the Defense Committee of the Argentine Senate. The minister pointed out that the "military personnel is received with applause and great empathy by all the neighbors where they are involved in support actions, as part of the operational deployment organized to help the population in the Covid 19 emergency".
"Everywhere we were able to help and respond to the requests, we did it, and we are trying to improve our deployment every day". During the video conference Rossi defended the need to increase the Defense Fund which he described as an essential financial support and equipment for the armed forces".
"I never look at providing equipment to the armed forces without looking at the development of the defense industry. In all countries of the world they play a strategic role and have an incredible participation in the science and technology development, an excel motivation for advancing.
Rossi also explained that the deployment has fourteen emergency command centers, most of them concentrated in metropolitan Buenos Aires, having accounted for over 500 missions plus helicopter support for patrolling during the peak moments of the preventive quarantine which in Argentina has now been extended until 10 May.
The minister said commanders on the field had clear instructions to work in coordination with local authorities, and these operations involved 22.089 personnel with the humanitarian task centered in preparing and distributing meals.
Another of the tasks is reinforcing hospital deployments with more beds, campaign tents, vaccination campaigns and temperature testing. Rossi said that 17 military hospitals have been provided with beds and staff to receive patients, and two field hospitals have been set up. An isolation center should be ready by early May, under the Navy's responsibility.
The minister also revealed that the sanitary department of the Argentine armed forces has 1.354 doctors, 2.275 nurses, 124 intense therapy beds plus 372 for intermediate care. Besides the Argentine air force has repatriated over 2.000 Argentines stranded overseas by the pandemic and has been involved in the transport of medicines and medical equipment.
"President Fernandez asked me to put all the armed forces resources to combat the pandemic, and that is what we have done", said Minister Rossi.