Uruguay and Argentina presidents discuss the future of Mercosur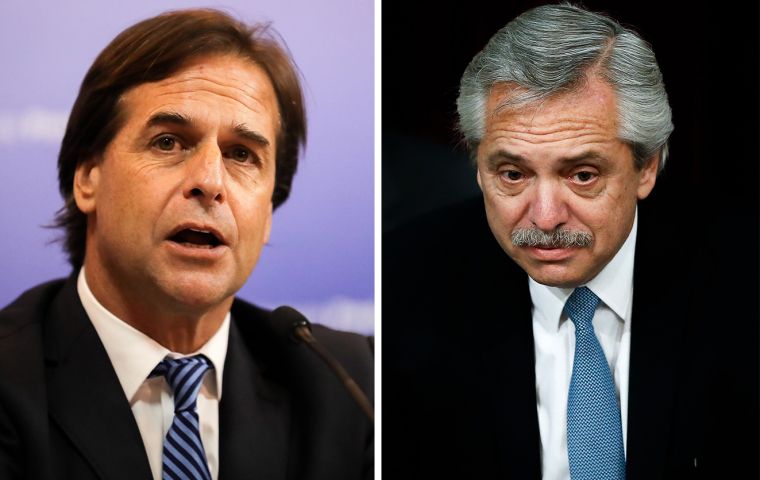 Uruguayan president Luis Alberto Lacalle Pou and his Argentine peer, Alberto Fernandez held a half-hour video conference Tuesday mid-morning to address the recent decision by the current Argentine administration to freeze Mercosur free trade negotiations with potential new partners and instead concentrate efforts in overcoming the COVID-19 pandemic and its sanitary, social, economic and employment consequences.
Uruguayan spokesperson Aparicio Ponce de León said the video conference was on request from president Lacalle Pou and the two leaders spoke about the COVID-19 pandemic, and their respective approach to the challenge, but the main issue was in effect Mercosur, and Argentina's latest position.
In effect, a "non paper" published in the Argentine foreign ministry site last Friday said that Argentina's domestic policy was geared to prevent the effects of the pandemic while protecting businesses, jobs and the most vulnerable families. Which is contrary to the position of some partners, which are demanding an acceleration of discussions to reach free trade agreements with South Korea, Singapore, Lebanon, Canada and India among others. Argentina has made it clear that international uncertainty and the current situation of the country's economy, advice an arrest of these negotiations".
Lacalle Pou told Fernandez that his government's intention is that "Mercosur continues to strengthen", and thus Uruguay "has the need to keep advancing in the accord negotiations".
Likewise both leaders agreed on the asymmetries existent in the regional block and expressed their commitment to correct them, according to political sources.
The conference lasted just over half an hour and the Argentine president allegedly asked Lacalle Pou "to look for a regional logic in the (Mercosur) group", insisting that Argentina's decision "is not to leave Mercosur, but rather to make it larger, with more members".
Finally the two leaders reviewed measures and decisions implemented by both countries to address the coronavirus pandemic.
However on Monday, Fernandez speaking with a radio in Buenos Aires gave the impression that his administration was on track to abandon Mercosur, if the other three members (Brazil, Paraguay and Uruguay) insist in their intention to sign individual agreements with third countries.
This is crucial since Mercosur works on a consensus base, meaning all members must agree on any changes to its charter or regulations, in other words Argentina has a veto option by simply denying support. It is well known that Brazil and Uruguay are very much committed to trade agreements with third party, anathema to Argentina's protectionist approach to the economy and foreign trade.
In effect, without a direct reference to a possible rupture from the group, Fernandez said there is a need "to discuss the essence of Mercosur", He added " I'm going to ask the foreign minister that we invite Mercosur members to a moment of reflection, because if they are prepared to throw Mercosur overboard, then let them tell us the block no longer exists. If every member is to negotiate what they consider their interest, what's the object of having Mercosur?".
The fact is that contrary to only a few years ago the ideological emphasis of Mercosur had changed drastically: in effect Brazil, Paraguay and Uruguay are ruled by governments that believe in economic interests before political interests, which means open markets, global trade, private enterprises and foreign investment.
This is totally opposite to the current administration in Argentina and its intellectual mentor, Cristina Fernandez who believes in protecting local industries, businesses, jobs, levies on farm exports and high tariffs on imports. Plus a clear alignment with Venezuela, Cuba and Nicaragua, and the belief that capitalism has failed, and the next political leader of the world will inevitably be China.