Argentina arrested on Sunday a Portuguese trawler poaching in its EEZ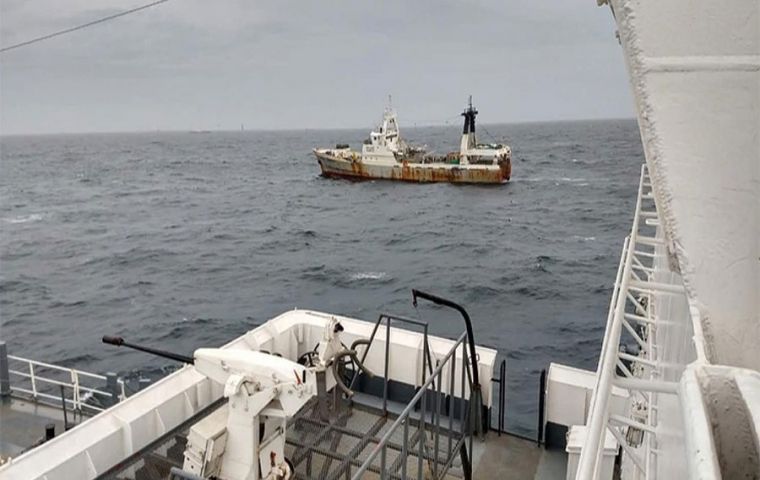 The Argentine Coast Guard arrested on Sunday a Portuguese trawler poaching in the country's EEZ, and will in the next few hours be escorted to the port of Bahía Blanca where it will face charges.
According to the official release patrol vessel ¨Prefecto Fique¨ sighted early Sunday the Portuguese flagged trawler "Calvao" operating some 199,7 miles off the Argentine coast line at San Anotnio Oeste, Rio Negro province, and ordered it to arrest, but the vessel with its nets still at sea immediately headed for international waters.
According to Law of the Sea international protocol, the Argentine patrol started to pursue the trawler which four hours later finally stopped and a Coast Guard party was sent aboard. Apparently with the boarding party on board and escorted by "Prefecto Fique", the trawler will be heading for Bahia Blanca.
A federal court in the city of Viedman will address the case and two crimes outstand, violation of the Fisheries Federal Law 24,922 and resisting arrest, since the vessel tried to escape into
the high seas.
It is the first arrest since a swarm of Chinese jiggers were spotted operating in the fringes of Argentina's EEZ earlier in the week, which led to a complaint letter to Argentine president Alberto Fernandez from the different fisheries chambers.
An initial attempt last week by the same patrol vessel, ¨"Prefecto Fique" to arrest a Chinese jigger proved unsuccessful when persecution in the high seas was stopped because of a heavy storm.
Apparently the Calvao trawler is no stranger to the zone, since last 21 April it requested assistance from the Argentine Coast Guard for the medical evacuation of a seaman in serious condition. The crew member was flown to an Argentine hospital.