Notorious Mexican drug leader extradited from Uruguay to United States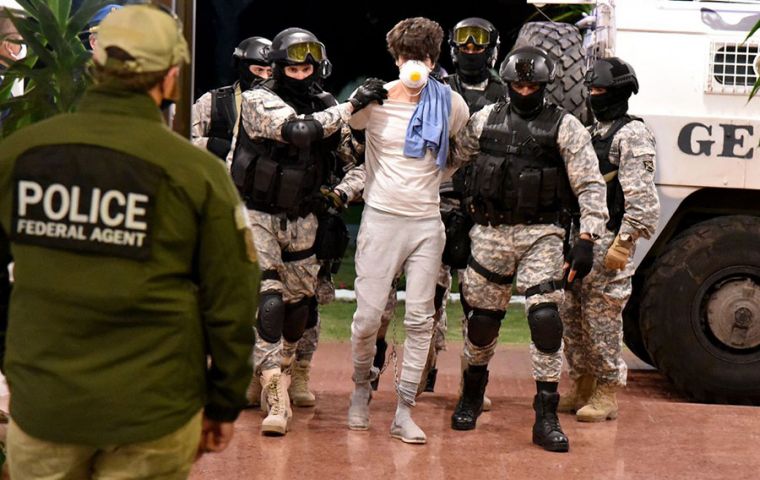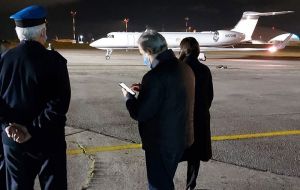 Uruguay on Thursday turned over to the United States a Mexican man wanted on drug and money laundering charges. Gerardo Gonzalez Valencia is the brother of Abigael González, the former head of the Sinaloa cartel faction known as "Los Cuinis" (The Squirrels). Gonzalez Valencia is also the brother-in-law of Jalisco cartel drug lord Nemesio "El Mencho" Oseguera Cervantes.
A 2:45 a.m. Thursday, Uruguayan army and police units extracted Gonzalez Valencia from the Libertad prison in San Jose, Uruguay, and took him to the military area of the Carrasco international airport.
The prisoner was taken inside a U.S.-registered airplane under the custody of the Drug Enforcement Administration. Uruguay Interior Minister Jorge Larranaga supervised the extradition and allowed the plane to take off at 6:20 a.m. A Montevideo website published a video of the extradition Thursday morning.
Gonzalez Valencia a month earlier had been transferred to the Libertad prison after the government of Uruguay learned of a plot to spring him from another jail. He also allegedly made death threats against the Minister of the Interior, alleging he was being tortured in jail, the website reported.
Gonzalez Valencia is wanted on drug charges in Washington, D.C., where a federal court ordered the seizure of assets acquired with profits from cocaine and meth sales. He was arrested in Uruguay on money laundering charges in 2016. He was living peacefully with his family as a good generous law abiding neighbor in the Atlantic resort of Punta del Este, where his children attended one of the most expensive schools.
In Punta del Este, he lived only a few blocks away from another notorious gang leader, but from Italy, the Calabrian mafia. Rocco Morabito was arrested in a Montevideo hotel following a minor incident with his wife, when the police realized he had forged documents. Morabito managed to pay his way out of the Montevideo Central Police jail last year and was never to be found again. He is/was in the top list of most wanted mobsters in Italy.
Morabito as well as Gonzalez Valencia, after long judicial processes which reached the Uruguayan Supreme Court were finally sentenced to extradition to the US and Italy, following these countries requests. But Morabito managed to escape before the sentence was implemented.
The two notorious cases have left serious questions about the conduct of the Ministry of Interior (Home Ministry) under the previous governments of presidents Tabare Vazquez and Jose Mujica. In effect when all these incidents happened, the Minister of Interior was Eduardo Bonomi a man who responds directly to Mujica and the Deputy minister was the brother of president Vazquez.