Falklands' lab can undertake on-Islands Covid-19 testing; no need to send swabs to UK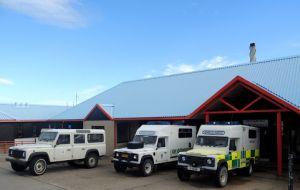 The Falkland Islands government on Monday reported that the latest test results received by the Stanley hospital KEMH are all negative for Covid-19.
The batch of 24 swabs were processed in the UK as part of the hospital's regular monitoring for the virus, but equally important future testing will now be able to be done in the Falkland Islands.
The laboratory team led by Kimberley Finlayson, has been undertaking training on the installation and use of the new PCR platform in the KEMH.
The team have carried out an intensive series of equipment and methodology verification processes over the past two weeks. Comparison testing of samples have been completed showing that results achieved in the KEMH have been equivalent to those achieved in the UK, meaning the test method has been successfully validated for use.
The Falkland Islands are now in a position to undertake on-Islands testing by symptomatic people who might be carrying the Sars-Cov-2 virus which causes the disease Covid-19.
The laboratory team will be able to run batches of tests with the minimum tests to be run at one time being nine and the maximum 21.
So far 426 Falklands' tests have been carried out in the UK. There has been thirteen positive cases of C19 results in the Falkland Islands, more precisely at the Mount Pleasant Complex, but all those affected have recovered or ended their isolation period.
Finally FIG recommends that is a swab taken for KEMH recently it's important to wait and hear directly from the hospital as to the test result and to keep following their health advice in the meantime.