France and Germany confirm alliance and propose 500 bn Euro recovery fund for Europe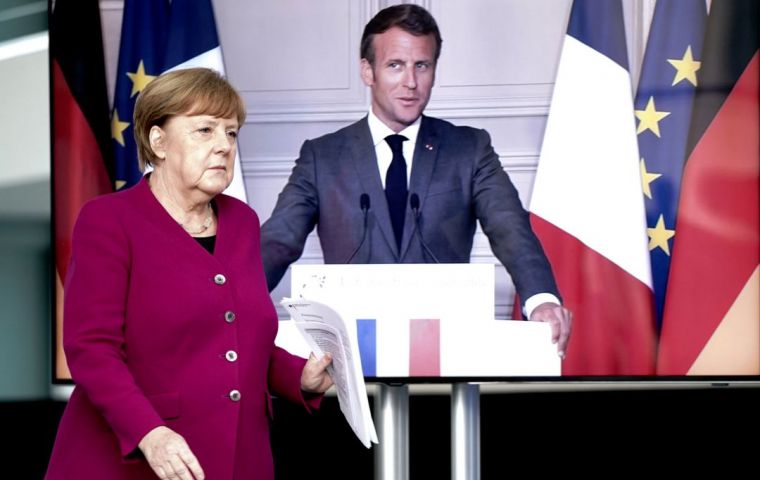 France and Germany proposed on Monday a 500-billion-euro (US$545-billion) fund to finance the recovery of the European Union's economy from the devastation wrought by the coronavirus crisis.
Putting aside past differences and seeking to prove that the Franco-German core of Europe remains intact, President Emmanuel Macron and Chancellor Angela Merkel announced the unprecedented package after talks by video conference.
European Central Bank head Christine Lagarde told major European newspapers that "the Franco-German proposals are ambitious, targeted and welcome."
With the European economy facing its biggest challenge since World War II, Macron also acknowledged that the EU had fallen short in its initial response to the virus and needed to coordinate more closely on health.
Financed by "borrowing from the market in the name of the EU," the 500 billion Euros will flow to the "worst-hit sectors and regions" in the 27-member bloc, the two countries said in a joint statement.
"We are convinced that it is not only fair but also necessary to now make available the funds ... that we will then gradually repay through several future European budgets," Merkel said.
Countries benefitting from the financing would not have to repay the money, Macron added, emphasizing that the funds "were not loans."
The euro zone economy overall is forecast to contract by a whopping 7.7% this year, with the damage set to be most severe in southern members like Italy and Greece.
St Peter's Basilica and the Acropolis in Athens opened their doors to visitors alongside many European shops, restaurants and churches, as Italy reported that its daily death toll from the virus had fallen below 100 for the first time since early March.