Falkland Islands commemorates Landing Day, 38 years ago, in San Carlos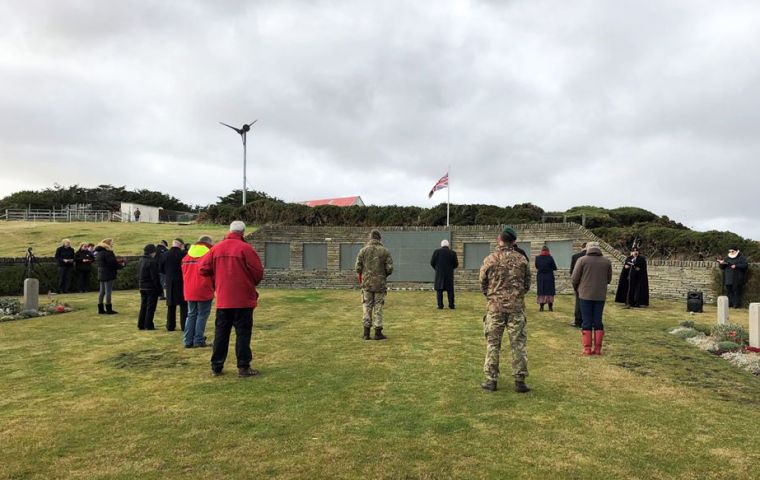 The Falkland Islands commemorated on Thursday Landing Day, 38 years ago when British Forces took several beaches in San Carlos settlement beginning the recovery of Islands territory.
An estimated 30 people gathered at the San Carlos cemetery for a short service of commemoration to remember Landing Day.
Wreaths were laid by Governor Nigel Phillips, lawmaker MLA Roger Edwards in representation of the Islands elected government, Chris Locke on behalf of the Royal British Legion, and others by members of the community.
The Act of Remembrance was read out by Rev. Ian Faulds, the Reveille and Last Post played, concluding with the singing of the National Anthem.
Contrary to previous years, because of the pandemic, attendance was limited, with markers and social distancing, and no social gathering following the ceremony.
Falklands' patrol HMS Forth, offshore in San Carlos waters, also conducted a service.
"This time of year is always a time of reflection for those deployed in the Falkland Islands with the Falkland Islands Patrol Vessel being in a unique position to patrol areas such as San Carlos Bay that were key battlegrounds during the conflict in 1982.
The harsh environment in which the ship operates throughout the year also provides the sailors on board with an acute understanding of the difficulties faced by their forebears.
A factor not lost on Petty Officer Andrew Birchall who spoke during the remembrance ceremony on board. He said: "Being here in the notorious and confined waters of 'Bomb alley' brings home the reality of the many obstacles sailors had to overcome during the conflict. It shows the incredible skill that was required by both sides to operate under such conditions where the environment and weather favored nobody."
Some three weeks after Landing Day, the invading Argentine forces surrendered unconditionally to the British Task Force, ending the South Atlantic 74 day conflict.