UK/Falklands air bridge sets two new records with the A330-200
Saturday, June 6th 2020 - 12:41 UTC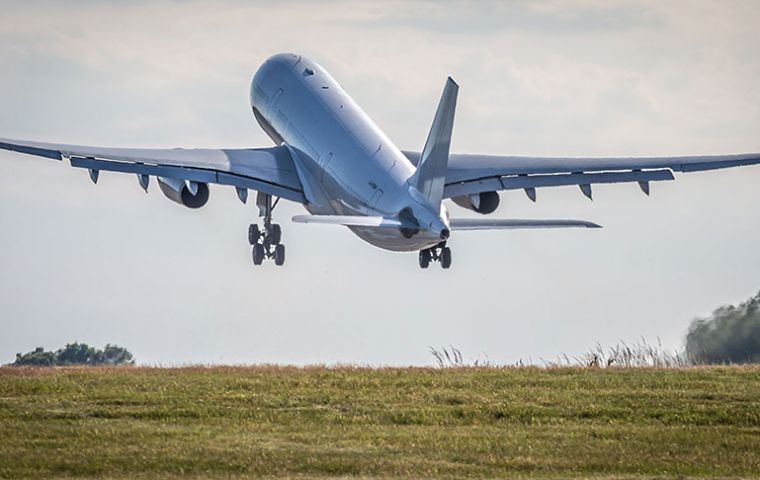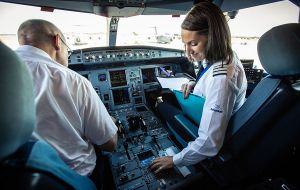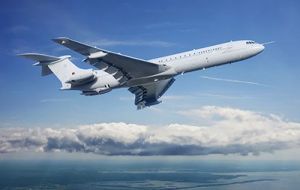 A new capability to fly directly from the United Kingdom to the Falkland Islands has been achieved. The modified aircraft, G-VYGM, took its maiden flight on Tuesday 2 June 2020, as part of the scheduled South Atlantic Airbridge and returned directly to the UK on Friday, setting two new world records in the process.
The civilian registered Voyager A330-200 aircraft, G-VYGM, flew direct from RAF Brize Norton to Mount Pleasant Airfield in a record time of 15 hours and 9 minutes. Travelling 6,948 nautical miles with no additional refueling and to a remote location with a challenging and ever changing climate, this maiden flight set a new world record, previously held by the VC10, operated by 10 Squadron in 1987. After a short stay, G-VYGM returned to the UK on 5 June flying direct in another record time of 13 hours and 22 minutes.
In response to the COVID-19 pandemic, the capability to fly direct to the Falkland Islands was developed to support the global effort to minimize the risks of the virus spreading, increase transport options and provide greater flexibility to UK Defense. By providing a necessary crew rest facility on board, crews are able to safely operate this direct flight, negating the need to stop at a mid-point location.
AirTanker worked with UK Defense to establish the concept and furthermore delivered this capability and incredible achievement with the support and hard work of our whole force team; civilians, regulars and reservists working together.
The added element uncovered throughout this capability, is that it also presented an opportunity to attempt to break not one, but two world records! In 1987, the VC10's delivered great speed and operated by No.10 Squadron, flew direct to the Falklands in a time of 15 hours 45 minutes. The VC10 was air-to-air refueled by additional aircraft flown by No. 101 Squadron who pre-positioned at Ascension Island and joined them on their route down to Mount Pleasant.
Wing Commander Mike Westwood RAF (Retd) was part of the VC10 crew who set the record in 1987. We spoke to him about the possibility of that record being broken. He said:
"Records are made to be broken and I really wish them the best of luck! The flight provides a great opportunity to keep the record within the 10 / 101 Squadron family"
Over 30 years later, this record brings a new and unique perspective which demonstrates the aircrafts true capabilities and whole force defense operations. The civilian registered aircraft was operated by AirTanker civilian crew; Chief Pilot Dave Hall (Captain), Aby Jackson-Moore (Senior First Officer), David Thompson (Captain) and Rich Steer (Senior First Officer), supported by AirTanker Cabin Crew.
Dave Hall, a former VC10 pilot and now a Sponsored Reservist with No. 10 Squadron, was the first to be greeted from the aircraft. Delighted with the result he said:
"As a former VC10 Pilot I was delighted to be part of an amazing team that has set a new record, flying direct to Falkland Islands. It's an extremely poignant moment in history, the record has stood for over 30 years; I am extremely proud of what we have all achieved".
Dave Hall and David Thompson are both sponsored reservist Voyager Pilots for No. 10 Squadron and Rich Steer is a Sponsored Reservist Voyager Pilot for No. 101 Squadron. Through this connection it is remarkable that this world record will remain within the Voyager family.
Wing Commander Al Scott, Officer Commanding 10 Squadron, was able to welcome the aircraft and crew as they arrived back at RAF Brize Norton. He said:
"AirTanker are a fundamental part of the whole Force that is epitomized by the RAF's strategic AT and AAR capability. Fantastic to see a new fastest time to the Falkland Islands being set. I'm really pleased to have 10 Squadron reservist participation in the flight and our Squadron's continued connection with that record" (AirTanker)