Islanders manufacturer, Britten-Norman celebrates 55th anniversary. Backbone of Falklands air service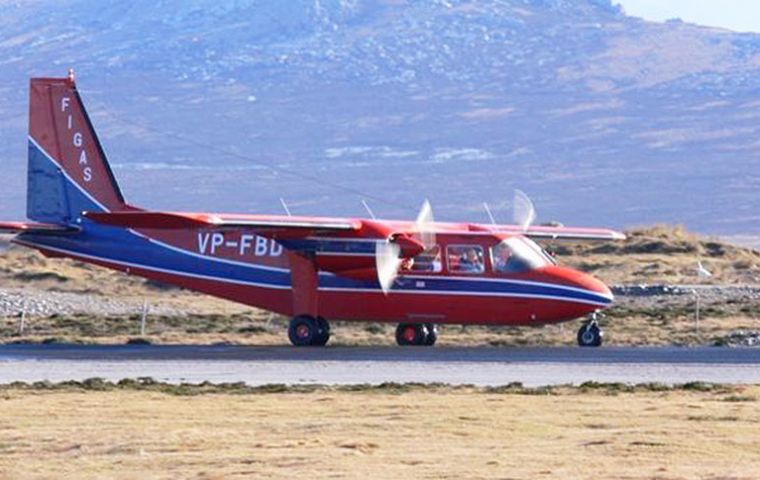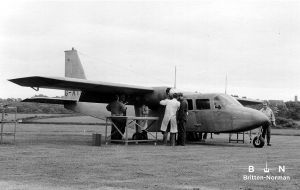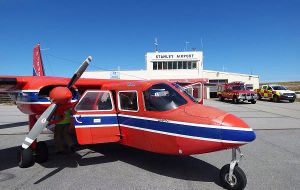 The UK aircraft manufacturer, Britten-Norman, celebrates the 55th anniversary of the Islander's maiden flight with a look to the future of British Aviation. The Islander is one of the world's most successful and enduring aircraft designs.
It has a formidable reputation as a workhorse; the earliest Islander still in operation today has been in service for 52 years. The Falkland Islands have six Islanders, the first of which arrived in 1979
The aircraft is designed to operate in some of the world's harshest environments, to land and take off from almost anywhere, to be as much at home on a snow packed landing strip as it is on a sandy beach.
Islanders are operated all across the world, employed as passenger transporters, cargo lifters and air ambulances as well as in more specialist operational roles such as oil pollution detection, search and rescue, fisheries patrolling, crime interdiction and counter-terrorism missions, to name but a few.
The aircraft also serves in the commuter and freight role, connecting isolated communities and transporting everything from penguins in the Falkland Islands to tourists in the Caribbean.
By 1967, within two years of its maiden flight, the Islander had demonstrated its broad appeal to the market with Britten-Norman delivering its 100th aircraft.
Today, Britten-Norman custom designs each aircraft to fit the operator's needs, leading to many variations and innovations around how the aircraft is employed. So far there have been over 2,044 modifications to the aircraft, reflecting the wide range of uses the Islander is put to. Customizations have been varied, from snow skis to satellite communications. Other modifications, such as ducted fan engines, geological survey booms and a 'duck billed platypus' nose-mounted radar installation, have also drawn much attention from the aircraft's worldwide following.
Whilst the Islander's core airframe has remained predominantly structurally unchanged since the original – a great testament to the designers of the day – today's Islanders feature a range of product improvements and enhancements. All leather interior, USB charging facilities, glass instrument panel and cabin conditioning are just a few examples of what the Islander now offers as standard.
Recent investment, and an expansion of the Britten-Norman R&D team, will allow the company to continue to explore new options for product improvement and to look into new operating concepts including clean power (electric and electric-hybrid power-trains) and options for autonomous operations.
Active programs such as Britten- Norman's collaboration with Cranfield Aerospace and Rolls Royce demonstrate the potential for modernizing within UK aerospace. Britten-Norman intends to ensure the Islander remains at the forefront of this potential new era of British aviation.
Britten-Norman chief executive, William Hynett, said: "I am incredibly proud that Britten- Norman has reached this milestone. John Britten and Desmond Norman established a simplicity of design that has endured since 1965. It is a testament to British design and manufacturing that the aircraft still has no like-for-like competitor. However, we are not complacent. British Aviation is on the cusp of several exciting technological breakthroughs and we are committed to ensuring the Islander, and our operators, remain at the forefront of these innovations." (Britten-Norman)