Major European investors warn Brazil with divestment if Amazon deforestation is not stopped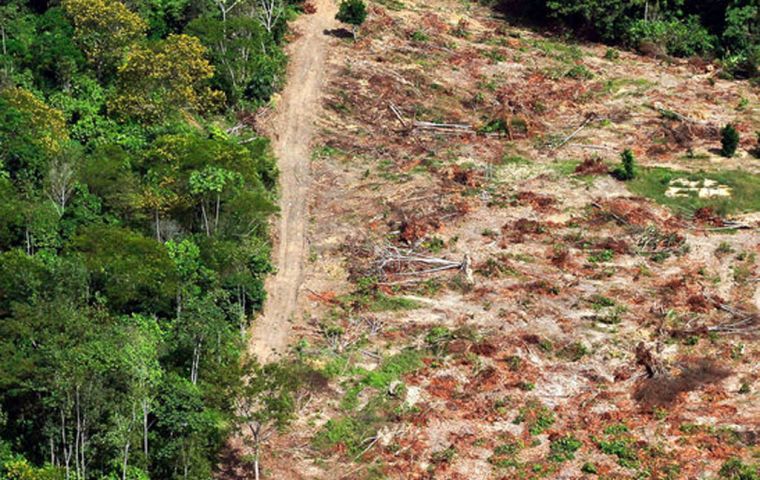 Major European investment firms have said they will divest from beef producers, grains traders, and even government bonds in Brazil if they do not see progress in resolving the surging destruction of the Amazon rainforest.
The rising threats from investors with more than US$2 trillion in assets under management, including Finland-based Nordea and Britain's Legal and General Investment Management (LGIM), show how the private sector is taking global action to protect the world's largest rainforest.
Brazil's President Jair Bolsonaro has shrugged off diplomatic pressure on the matter.
Deforestation of Brazil's Amazon surged to an 11-year high in 2019, Mr Bolsonaro's first year in office, and has risen a further 34% in the first five months of 2020, according to preliminary data from government space research agency INPE. The right-wing populist has weakened environmental protections and called for more mining and farming in the Amazon region.
"The trends we've seen in Brazil are very concerning," said Ms Daniela da Costa-Bulthuis, Brazil portfolio manager for Netherlands-based asset manager Robeco. "You have a dismantling of the regulatory mechanisms of environmental control since last year."
Bolsonaro's press office defended Brazil's environmental record against criticism from world leaders last year as destructive fires in the Amazon drew global outcry. So far, corporate pressure has proven more effective in turning Brasilia's attention to the environment.
A Bill originally proposed by Bolsonaro to grant property deeds for irregularly settled public land, a measure seen encouraging deforestation, failed to reach a vote in May and is now delayed indefinitely after more than 40 mostly European companies threatened to boycott Brazilian exports.
In September, 230 institutional investors signed a letter calling for urgent action to combat the fires surging in the Amazon rainforest, capturing global attention.
However, the seven asset management firms, Storebrand, AP7, KLP, DNB Asset Management, Robeco, Nordea Asset Management and LGIM, went further in laying out the threat of divestment if there is no progress. The firms hold over US$5 billion in investments linked to Brazil, including global grains traders with major operations in the country.
Norway's largest pension fund KLP said it was engaging with trading firms Archer Daniels Midland (ADM), Cargill and Bunge and judging if their environmental policies are adequate.
In response to questions on divestment, Cargill and Bunge described a range of efforts to root out deforestation from their supply chains, citing their adherence to the "Amazon Soy Moratorium". In that voluntary agreement, major trading firms including Cargill, Bunge and ADM pledged not to buy soy from parts of the Amazon deforested since 2008.
Brazilian meat giants, JBS, Minerva and Marfrig said in separate statements they are committed to eliminating Amazon deforestation from their supply chains and detailed their efforts.