Funding boost for BAS space weather monitoring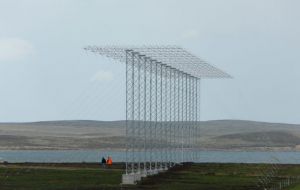 Space weather research at British Antarctic Survey (BAS) received a funding boost of around £2M from the SWIMMR (Space Weather Instrumentation, Measurement, Modelling and Risk) program.
SWIMMR is a £20 million, four-year program led by the Science and Technology Facilities Council (STFC) with the Natural Environment Research Council (NERC) that will improve the UK's capabilities for space weather monitoring and prediction. There will be an emphasis on space radiation, which can affect aircraft systems, and changes in the upper atmosphere, affecting communications, satellite orbits and power grids and other ground-level systems. These are significant risks to the infrastructures society relies on in daily life and are recorded in the UK's National Risk Register.
BAS leads one project (Sat-risk) and is partnering on two others (SWIMMR-T and SAGE). They are funded by NERC, which is part of UKRI, and are focused on improving the UK's capability to predict and mitigate the hazards of space weather by incorporating new research to further develop the space weather models used by the Met Office Space Weather Operations Centre.
Improving the accuracy of predicting when and where space weather events take place should allow the Met Office to issue warnings and advice sooner, allowing operators more time to take necessary action, such as manoeuvring satellites and isolating parts of the power network to ensure the least amount of disruption possible.
Professor Richard Horne, who is head of the Space Weather team at BAS is leading the Sat-Risk project. He says: "As our dependence on satellites has grown exponentially over the last 10 years so has our need to protect them from the disruption caused by space weather. In the Sat-Risk project we are using data from satellites and ground-based instruments across the globe, including Antarctica, to drive our forecasting models. By the end of the project we will be able to forecast space weather up to 3 days ahead for almost any orbit so that satellite operators can take preventative action."
The SWIMMR-T project will develop an operational model for the Met Office of how space weather affects the drag on satellites causing uncertainties in their position and hence risk of collision with other satellites and space debris. BAS will use SuperDARN radars in the Polar Regions to improve the modeling of the source of the upper atmospheric heating that causes the drag.
The SAGE project will develop an operational model for the Met Office of how space weather affects potentially hazardous electrical currents flowing in the National Grid and railways. BAS researchers will develop two models of the space weather sources of these currents during extreme times.
Science Minister Amanda Solloway says: "Satellites are fundamental to our everyday lives, underpinning technologies we constantly rely on from mobile phones to GPS. Any disruptions caused by space weather can therefore have a profound impact on businesses and individuals.
"These fantastic projects that we are backing today will enhance the UK's ability to forecast space weather, enabling our excellent national weather service to defend the technologies we all depend on."
Duncan Wingham, Executive Chair of the Natural Environment Research Council, says: "SWIMMR is great example of NERC working with the Science and Technology Facilities Council and other partners to support world-leading environmental research, and the funding will maximize the impact and uptake of an essential forecasting service relied upon by Government and businesses. These exciting projects will further our understanding and confirm the UK's reputation as an international leader in this field." (BAS)