Kiwi longliners meet at Falklands; San Aotea on Thursday leaves for New Zealand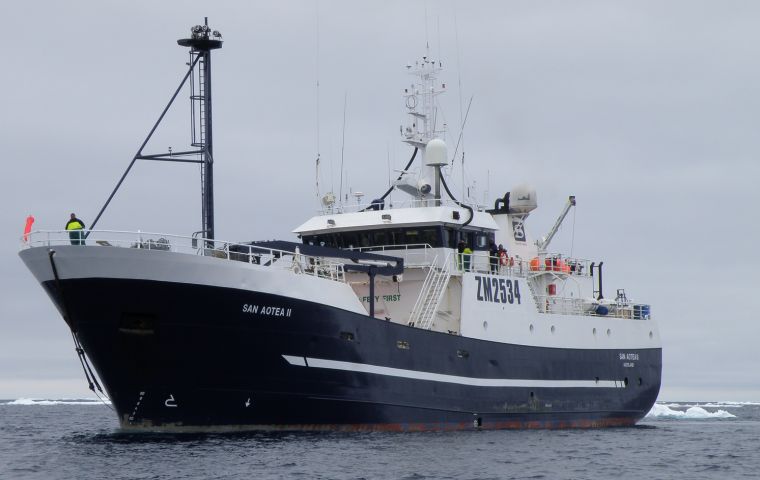 A 25-day slog across the frigid Southern Ocean is finally over for a New Zealand Sanford fishing vessel on a mercy mission to help the crew of a fellow fishing boat who spent months at sea in rough waters near Cape Horn due to the Covid-19 lockdown.
The San Aotea arrived in the Falkland Islands on Monday and teamed up with the crew of the San Aspiring, and the two ships are now are berthed together at Port Stanley.
The crew on the San Aspiring had been fishing for toothfish and doing scientific research off South Georgia since February. They carried on fishing throughout the lockdown.
But there were no flights from South America or any way to get the crew home without potentially exposing them to Covid-19 after their tour of duty ended.
So Sanford sent another boat half way across the world to go and get them and another crew who would takeover.
Sanford spokesperson Fiona MacMillan said: "It's the right thing to do. Those guys did not sign up to be stuck out at sea for eight months, they signed up for a specific fishing mission".
The San Aotea will also be bringing back two other stranded New Zealanders on its journey. These two were also stranded in the Falklands by the Covid-19 lockdown.
Sanford said they were a couple from Auckland who were holidaying there - one had family from the Falkland Islands.
The company said because it was not allowed to take passengers, the pair were designated as crew - the man was an engineer and would help with the boat - his partner had catering experience and would help feed the crew.
Sanford had been through all the necessary checks on their health and status, as well as checks with insurers and other authorities.
MacMillan said the San Aotea had begun unloading stores for its sister ship in the Falklands. Its skipper John Bennett took over the San Aspiring to complete the fishing season.
The skipper of that vessel Shane Cottle will pilot the San Aotea back to New Zealand. The San Aotea is expected to leave the Falklands at midnight on Thursday.
A small number of the San Aspiring crew who left New Zealand in February agreed to stay on. While it took around 25 days for the San Aotea to get to the Falkland Islands, it will likely take longer to get back as they will be going against the weather and currents.