Integration bridge connecting Paraguay with Brazil in under construction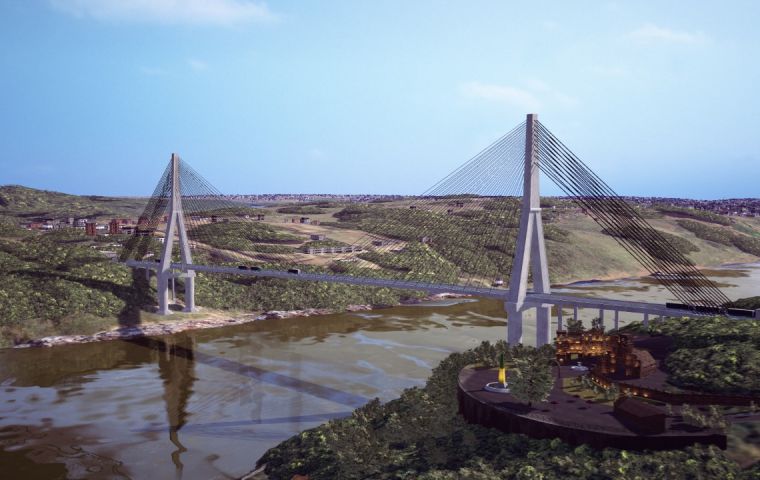 Construction work is being carried out for the Puente de la Integracion bridge connecting Paraguay with Brazil. The bridge spans the Parana River and connects Presidente Franco in Paraguay with Foz de Iguazu in Brazil.
The project is being carried out by a consortium; Construbase-Cidade-Paulitec. Building the bridge itself is costing around US$84 million. However, the work also includes building around 37km of connecting roads and in all this comes with a price tag of over US$ 180 million. Included with the link road construction will be the building of two small bridges as well as an overpass stretch.
Building the Puente de la Integracion link will also improve transport with Argentina, which lies to the immediate south of Presidente Franco and Foz de Yguazu. The bridge will be around 174m high when complete.
Meanwhile, the Costanera Sur project in Paraguay's Asuncion has been paused for the moment. The project is being handled by the Consorcio del Sur consortium while the financing for the project is finalized. Consorcio del Sur comprises Eurofina and Topografia y Caminos SA (TyC).
Financing for a further US$ 130 million is needed to help pay for the project. There have been delays over the land needed for the route. Extra funding will be required to pay for the construction of replacement homes for those residents who will have to move as the alignment means their current dwellings have to be demolished.
There are concerns that the alignment was selected without full consideration of the demolition work required. But a loan from the Inter-American Development Bank (IADB) will help to pay for the new homes needed.