Uruguay's foreign minister finally presents his resignation; Bustillo, currently ambassador in Spain, replaces Talvi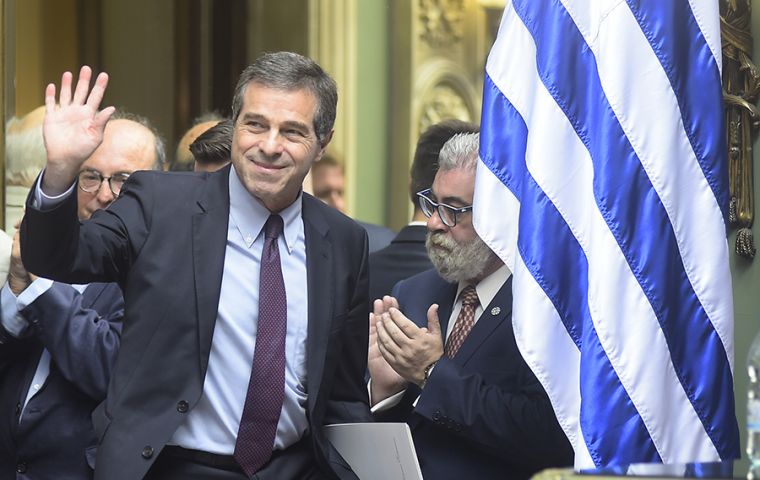 Uruguay's Foreign Minister, Ernesto Talvi, presented his definitive resignation on Wednesday, according to what he wrote on his Twitter account. In a letter addressed to President Luis Lacalle Pou that he published on the social network, Talvi explained that his intention was to remain in the Foreign Ministry until the end of the year, during the "pro tempore" presidency of Uruguay in Mercosur that the country assumes this week.
"I understand, however, that the times in the cabinet are set by the President of the Republic. Then I present to you my resignation from office", he said.
"Nothing is further from my intention than to be an obstacle in your desire to appoint the Minister of Foreign Relations that you consider most appropriate to accompany your administration", he added.
Talvi's resignation has been in the local press for several weeks. The chancellor himself had advanced in statements to the media on June 11 his intention to leave the post in the short term.
As he pointed out then, his idea is to dedicate himself to leading his political sector, Ciudadanos, within the Colorado Party, one of the five forces that make up the government coalition.
The chancellor was the visible face of highly praised return operatives with wide media coverage, such as the passengers and crew of the Australian cruise ship Greg Mortimer.
Nonetheless, Talvi, 63, reportedly had several mishaps with Lacalle Pou, for example for the appointment of some diplomatic posts.
According to local media, the chancellor will be replaced by the current Uruguayan ambassador to Spain, Francisco Bustillo, a career diplomat, who would fly to Montevideo in the next few hours.
Talvi, an economist with advanced studies in the US, is a former World Bank advisor and was for several years head of a local think tank Ceres in Montevideo. Ceres was founded by members of a family of bankers, some of whom ended in jail for speculating with Argentine bonds, which helped bring down the Uruguayan banking system in 2002/03.
With little political background, and although he gives a good impression in the media, Talvi lost several of his staff for his authoritarian style in his inner circle workings and his "immense ego" and lack of compromise attitude caused him to repeatedly clash with members of his own party and the ruling coalition.
Bustillo a professional diplomat is considered a 'charming' character with good relations on both sides of the political aisle in Uruguay, a close friend of Argentine president Alberto Fernandez, good contacts in the Brazilian political system, and following on his own family's diplomats tradition, is described as a man intent in building bridges and reaching understandings, even when sometimes not so dedicated to the daily routine.