England's travel corridors: countries and territories exemption list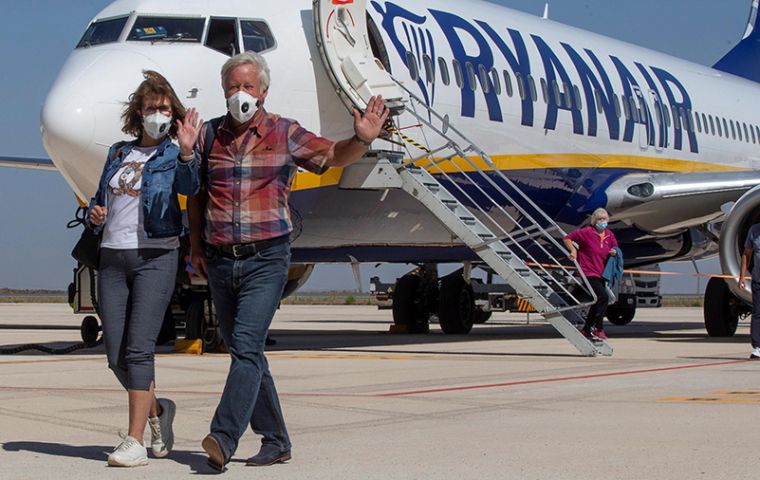 From 10 July 2020, unless they have visited or stopped in any other country or territory in the preceding 14 days, passengers arriving from the following countries and territories will not be required to self-isolate on arrival into England.
Europe
• Austria
• Andorra
• Belgium
• Croatia
• Cyprus
• Czech Republic
• Denmark
• Estonia
• Finland
• France (overseas territories of France are listed separately, where included in the exemption)
• Germany
• Gibraltar
• Greece
• Hungary
• Iceland
• Ireland
• Italy
• Latvia
• Liechtenstein
• Lithuania
• Luxembourg
• Malta
• Monaco
• The Netherlands (not including the constituent countries and special municipalities located in the Dutch Caribbean)
• Norway
• Poland
• Portugal (only The Azores and Madeira)
• San Marino
• Serbia
• Slovakia
• Slovenia
• Spain
• Switzerland
• Turkey
Americas
• Antigua & Barbuda
• Bahamas
• Barbados
• Bermuda
• Canada
• Cayman Islands
• Dominica
• Grenada
• Jamaica
• Martinique
• South Georgia & the South Sandwich Islands
• St Kitts and Nevis
• St Lucia
• St Pierre and Miquelon
• St Vincent and The Grenadines
• Trinidad and Tobago
• Turks and Caicos Islands
Asia-Pacific
• Australia
• Brunei
• French Polynesia
• Hong Kong
• Japan
• Macao
• Malaysia
• New Zealand
• Taiwan
• Thailand
• Singapore
• South Korea
• Vietnam
• Wallis and Futuna
Africa
• Reunion Island
Antarctica
• British Antarctic Territory
Ireland, the Channel Islands and the Isle of Man are exempt as they are part of the common travel area. The 14 British Overseas Territories are also exempt.
This list may be added to over the coming days following further discussions between the UK and international partners.
Information for travel into Scotland, Wales and Northern Ireland will be published by the Devolved Administrations.
Before your arrival in the UK, you must complete a passenger locator form. You must present these details on your arrival in England. This applies to both visitors and UK residents.
We will keep the conditions in these countries and territories under review. If they worsen we will not hesitate to reintroduce self-isolation requirements.
Travelers should always check the latest FCO travel advice. Travel advice includes information on any health measures in place for visitors to the country or territory. These can include a requirement to self-isolate, quarantine, or undergo testing for coronavirus, or even restrictions on entry.