Falklands/UK Airbridge limits seats for civilian passengers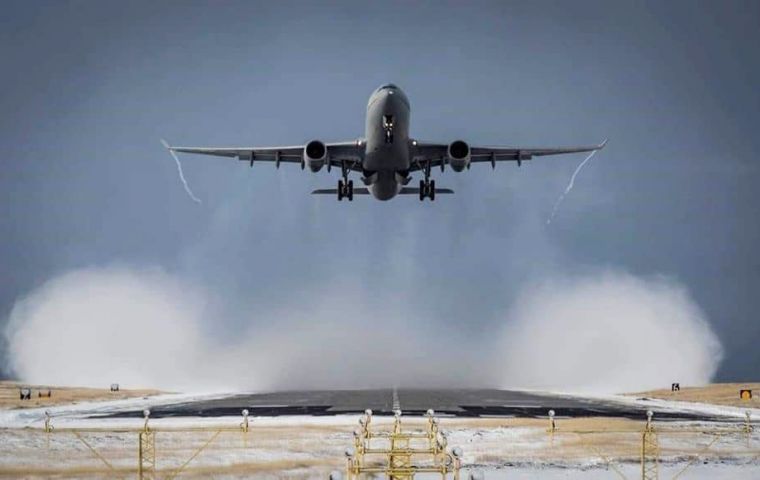 Quarantine requirements both in the United Kingdom and the Falkland Islands, combined with global restrictions in air travel, have led to changes to the South Atlantic Airbridge scheduling, it was announced by the Islands' government.
Specifically, civilian passengers can only travel Southbound on every third flight.
The maximum capacity of the Airbridge in consideration of social distancing measures is 125 seats, all of which are technically available for civilian use on the Southbound flight. Availability may be reduced in times of operational need, it was noted.
Seats are available to civilians on all northbound flights. However, as a result of the reduced capacity on each flight, there may be occasions when availability is reduced due to operational need, potential travellers were told.
Current arrangements are to be periodically reviewed, it was noted in an announcement from Falkland Islands Government and schedules may change at short notice and be subject to cancellations and delays.
However, in order to facilitate planning currently scheduled Southbound flights available to civilians (subject to change) are: Tuesday 21 July, Tuesday 4 August and every other Tuesday thereafter until further notice.
Passengers were told to check with their travel booking agent for further dates.
Civilian passengers on Southbound flights were also told to continue to book commercial transport (Penguin Travel) for transfers between Mount Pleasant Complex and their accommodation in the Falkland Islands. This is in support of existing quarantine arrangements for arrivals.
Civilian passengers on Northbound flights are not required to book commercial transport and can be dropped off at MPC providing all current requirements regarding holding a ZUB and vehicle pass were met.
In line with the UK Government's guidance, passengers travelling on the South Atlantic Airbridge are required to wear a face covering.
All passengers aged 11 years or above should be in possession of a face covering when they report to the Air Terminal and must wear the face covering on the aircraft.
Passengers will be asked to prove they have a face covering at check-in and may be prevented from accessing the South Atlantic Airbridge, if they do not have a face covering. (Penguin News)