Irish minister elected new president of the Eurozone finance group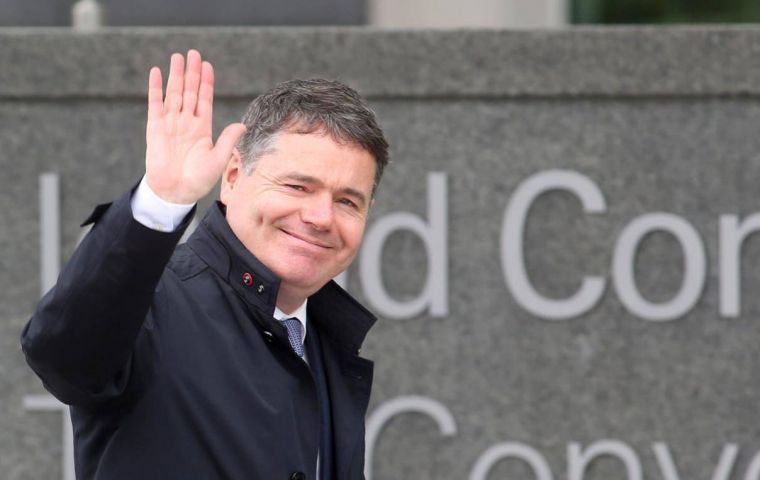 Ireland's finance minister Paschal Donohoe has been elected as the new president of the eurozone's finance group. Donohoe succeeds former president Mário Centeno from Portugal who said in June he would not run for another term as Eurogroup president.
The president leads the informal group representing the states that use the euro as a currency. Donohoe comes to the helm of the group at a complex moment with forecasts that the Euro area economy will contract by 8,7% this year.
Outgoing president Centeno said that even if the euro economy continues to rebound, the eurozone will be behind next year as well.
"As I begin my tenure as president of the Eurogroup, I'm deeply conscious that the citizens of Europe...have become concerned, have become fearful again for their [futures]," Donohoe said at a press conference.
Donohoe also said that he was confident that the Eurogroup could play an "essential role in forging a consensus" on policy decisions for the entire bloc. He added he was confident that the Eurogroup has the ability to overcome the challenges and prevail.
But deep divides remain among the eurozone and European Union member states that have yet to agree on a new coronavirus recovery package that would provide a combination of grants and loans.
The president has to win a majority of Eurogroup finance minister votes in order to be elected.
There were three candidates for the job, Donohoe, Spain's finance minister Nadia Calviño, and Luxembourg's finance minister Pierre Gramegna. Gramegna dropped out after the first round.
Calviño tweeted that she was "looking forward to working together to ensure a robust recovery that leaves no one behind."