OECD Investment Committee report helps Uruguay with its full membership incorporation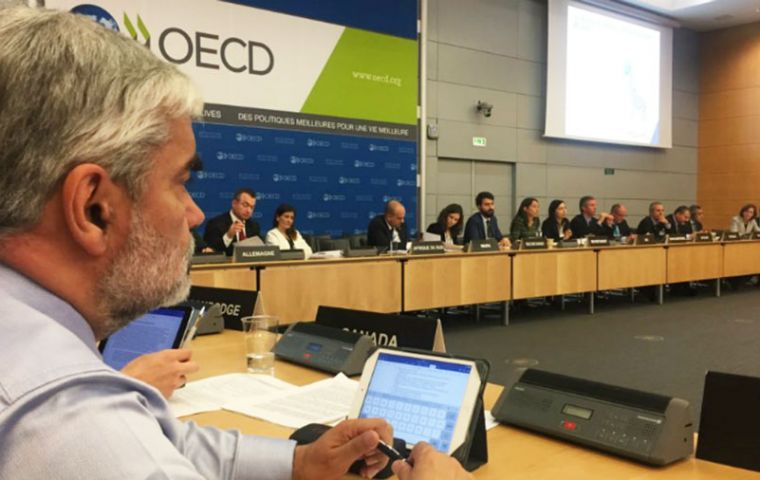 The Organization for Economic Cooperation and Development Investments Committee has decided to support Uruguay's incorporation as full member of that committee. The decision follows a review by the Committee of Uruguayan investment policies.
For Uruguay the review is part of the adherence process to the Committee, according to an official release from the country's Economy and Finance ministry.
The review, part of the above mentioned process was financed with funds from Uruguay and from the EU Facility for Transition Development, an instrument for the implementation of public policies in the region.
Uruguay's aspiration to adhere to the Investments Committee was started in March 2018, and is part of a gradual strategy to approach the organization, with the purpose of exchanging, having access and sharing better practices in economic and development policies.
The OECD Council will decide on the matter.
The OECD Investment Committee is responsible for the OECD liberalization instruments in the field of international investment and services. It interprets and implements the 1976 Declaration and Decisions on International Investment and Multinational Enterprises and is the guardian of the Codes of Liberalization of Capital Movements and Current Invisible Operations.
The Committee promotes the liberalization of policies towards international capital movements, international direct investment and multinational enterprises and trade in services, fosters international co-operation in these fields and promotes better understanding of the policy issues at stake. In pursuit of these goals, the Committee:
• provides a forum for discussion of current issues among policy makers and administrators from OECD and non-OECD countries. Views are also exchanged with business, labour, NGOs and other groups through consultation procedures, roundtables and conferences;
• monitors the observance of the "rules of the game" set out in the OECD Codes of Liberalization and the Declaration and Decisions on International Investment and Multinational Enterprises and provides a forum for dispute resolution under these instruments; and prepares, when necessary, statements of "clarifications" or interpretation of the rules of the game for which they are responsible, including the Guidelines for Multinational Enterprises;
• conducts country-by-country or horizontal "peer reviews" of policies relating to the instruments and make recommendations to promote liberalization;
• assesses whether candidates for OECD membership are willing and able to meet the obligations of the OECD instruments;
• develops new rules of the game where necessary and appropriate;
• prepares critical analysis of trends in investment flows and a wide range of policy issues for consideration by policymakers, and where appropriate for publication to a wider audience.

The Investment Committee was formed in April 2004 following the merger of the Committee on International Investment and Multinational Enterprises (CIME) and the Committee on Capital Movements and Invisible Transactions (CMIT)